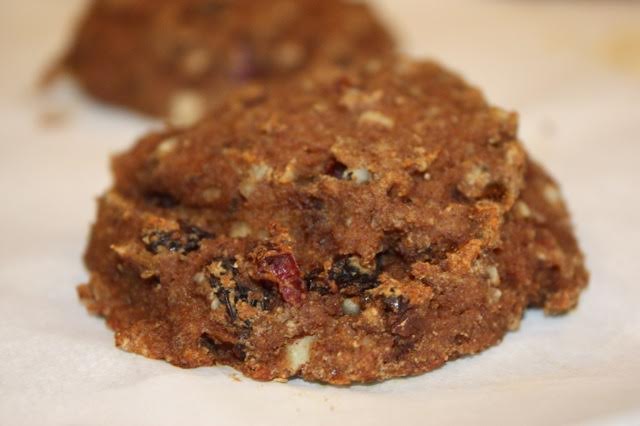 Being gluten free I always have my eye and ear out for a wheat free baked goods option. The inspiration for this cookie came from the Against All Grain website's Allergy Friendly Breakfast Cookie. The recipe is changed up quite a bit and does have butter and nuts added, but the outcome was delicious and definitely a gluten free, sugar free baked treat. Enjoy for dessert, breakfast or a snack anytime of day.
Cran-Raisin Pecan Cookies
3 ripe bananas
1/2 cup unsweetened applesauce
2 tablespoons butter
6 pitted apricots
1/3 cup coconut flour
2 teaspoon cinnamon
1 teaspoon vanilla
1 teaspoon baking soda
2 teaspoons lemon juice
1/2 cup chopped pecans
3 tablespoons dried cranberries
3 tablespoons raisins
Preheat oven to 350. In a food processor, puree the first 4 ingredients until batter is well blended, about 30 seconds. Add the coconut flour, cinnamon, vanilla, baking soda and lemon juice and pulse a handful of times to combine.  Add the pecans and dried cranberries and raisins and pulse two more times. Do not over pulse so that fruit is combined and chopped but not pureed.
Cover a large baking sheet with parchment paper. Spoon batter onto parchment paper and pat into cookie shapes. Cookies will be shaped as they appear when going into the oven as they come out. Bake for 20 minutes. Remove and cool. Store in airtight container in refrigerator.