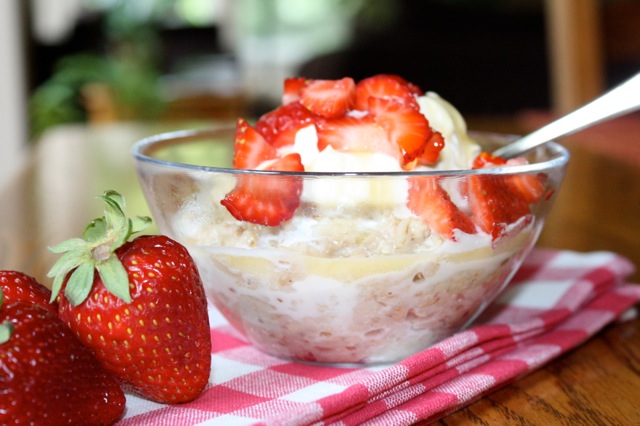 It's the sweet strawberry time of year and last weekend I had some leftover whipped cream with strawberries from a shortcake dessert. I cooked oatmeal one morning with my usual add of nuts for a heartier breakfast and topped it with whipped cream and strawberries. It was a hit with a drizzle of honey perfection.
Strawberries and Cream Cooked Oats
3/4 cup rolled oats
1/4 cup quick cook steel cut oats
1/8 teaspoon salt
2 cups water
1/4 cup finely chopped pecans
1/2 pint heavy whipping cream
1/2 teaspoon vanilla
6-8 fresh strawberries
a drizzle of raw honey
In a medium saucepan bring water and salt to a boil. Reduce heat to low and add the oats. Cook for 5-6 minutes or until desired consistency, stirring occasionally. Remove from heat and stir in pecans.
While oatmeal is cooking put whipping cream in high speed blender and whip until a peak is formed. Add a touch of 1/2 teaspoon vanilla. Wash and slice strawberries.
Serve warm cooked oats with whipped cream, strawberries and a bit o' honey on top. Serves 2-3.
Source: Jackie Mack, Lingonberry Lane