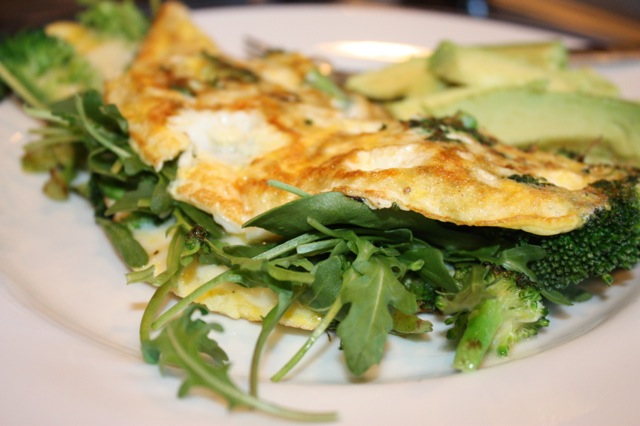 Creating new breakfast options can be a challenge. I happened to have arugula in stock and decided it would go well in an omelette. I tried the arugula and added broccoli for an extra kick of vitamins and flavor. It's topped off with mozzarella and voila – I have a new omelette in the repertoire.
Broccoli Mozzarella Arugula Omelette
2 eggs, beaten
one large pat of butter
handful of broccoli
handful of arugula
2 healthy slices of mozzarella cheese or a handful of shredded
1/2 an avocado
sea salt and pepper to taste
Using a small omelette pan, add the pat of butter to pan and melt.  Add the handful of rinsed and chopped broccoli pieces to the pan.  Cook broccoli on low to medium for a few minutes until broccoli is bright green stirring with a spatula a few times to cook evenly. Move broccoli to one half of the pan with spatula. Break eggs into bowl and beat with a fork until blended. Add eggs to the pan and pick up pan and angle it to spread the egg mixture to cover the bottom of the pan. Add the mozzarella cut in pieces or a handful of shredded cheese on top of the eggs. Cook until the eggs are firm to your personal preference and cheese is melted. Sprinkle a handful of arugula on top of the broccoli. With a spatula, take one side of the omelette and fold over to form a half fold traditional omelette. Slice the avocado and serve on the side. Salt and pepper to taste. Serve immediately. Serves 1.
Source: Jackie Mack, Lingonberry Lane