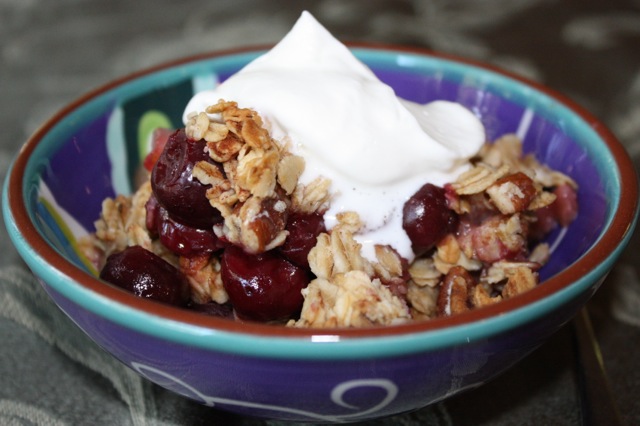 I'm still on a cherry kick and I had pears I needed to use….they became a breakfast crumble on Veteran's Day, a day off of school.  I adapted Healthy Delicious's Pear and Cranberry Crumble. This breakfast is was a great start to the day with fresh whipped cream on top. The taste was fresh, crunchy, nutty and not too sweet. This dish could also serve as a dessert topped with the whipped cream or vanilla ice cream.
Cherry Pear Pecan Breakfast Crumble
4 pears, peeled, sliced and cut into medium chunks
3 cups frozen cherries (could substitute sliced apples or another frozen berry)
1/2 lemon, juiced
3 tablespoons brown sugar
2 tablespoons flour or corn starch
1 teaspoon cinnamon
1 pinch sea salt
4 tablespoons butter, melted
1/4 cup honey
1/2 cup whole wheat flour
2 cups old fashioned oats
1/2 cup pecans, chopped
Whipped Cream
1 pint whipping cream
1 teaspoon vanilla
Mix pears, cherries, lemon juice, flour (or cornstarch), brown sugar, cinnamon and a pinch of salt in 9×13 baking dish.
Melt the butter and honey in a small saucepan over medium heat. In a mixing bowl, combine the flour, oats and pecans with the butter/honey mixture. Combine until well mixed and all ingredients are moist and crumbly. Spread the topping over the fruit mixture in pan. Top with cinnamon.
To whip cream; pour 1 pint whipping cream into mixing bowl. Using an electric blender or Kitchen Aid beat at highest speed. Add vanilla when cream is getting firmer but just before it forms a peak in the bowl when pulling your blender. Serve with the warm breakfast crumble.
Bake at 350 for 35-40 minutes or until golden brown and bubbly. Serves 6.
Source: Healthy Delicious