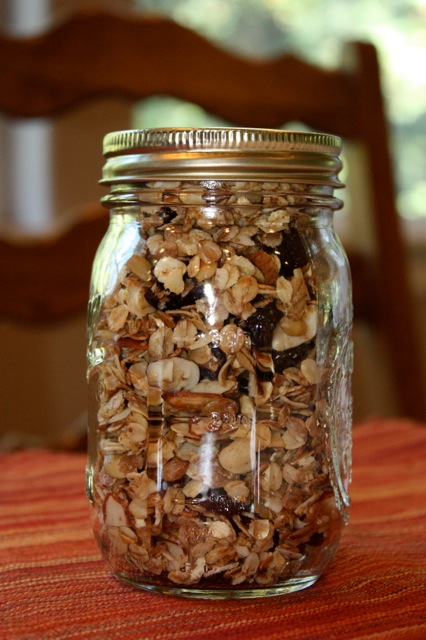 This is the first time I've made granola and it was so easy and the product is tastier than I can buy in a waxed bag and box from the grocery. The grains are fresh and the yummy coconut oil and honey add a sweetness to the nutty flavor. I adapted this recipe from Aggie's Kitchen. For the multi grains, I used a cereal similar to old fashioned oats but with rye, barley, oats and wheat grains – Country Choice Organic was the brand from Trader Joe's. You can replace the multigrain with just oatmeal. The granola is versatile and can be used as a topping for ice cream, oatmeal, in a yogurt parfait, as a cold cereal with your favorite milk. I sent the granola to school as a snack on it's own in lunches this week. It's a nutty sweet treat and takes about 30 minutes of your time from start to finish. Cool and it's ready to munch on.
Multigrain Cherry Granola
2 cups old fashioned oats
2 cups multigrain cereal (I used Country Choice Organic wholegrain cereal with rye, barley, oats and wheat – similar to old fashioned oats that need to be cooked) – can substitute old fashioned oats
1 cup sliced raw almonds
1/2 cup raw walnuts, chopped
1/2 cup raw pepitas (small hulled pumpkin seeds – can be found in bulk sections or health food stores – they are light green color with whitish hulls removed) – can substitute walnuts or almonds
1/4 cup wheat germ
1/2 teaspoon sea salt
1/3 cup coconut oil
1/3 cup raw honey
2 teaspoons vanilla
1 cup whole dried cherries, chopped (can substitute raisins)
Preheat the oven to 350 degrees. In a large mixing bowl combine the oats, multigrain cereal, almonds, chopped walnuts, pepitas, wheat germ and salt. In a small saucepan on low heat, melt the coconut oil and honey to a liquid form. Combine the oil and honey with the grains and mix well. On two large baking sheets or two 9×13 pans divide the granola mixture. Bake for 10 minutes. Remove from oven and add cherries equally between pans and mix. Bake for 10 more minutes or until golden brown. Remove from oven, loosen granola in pan and let cool completely.
Source: Adapted loosely from Aggies Kitchen