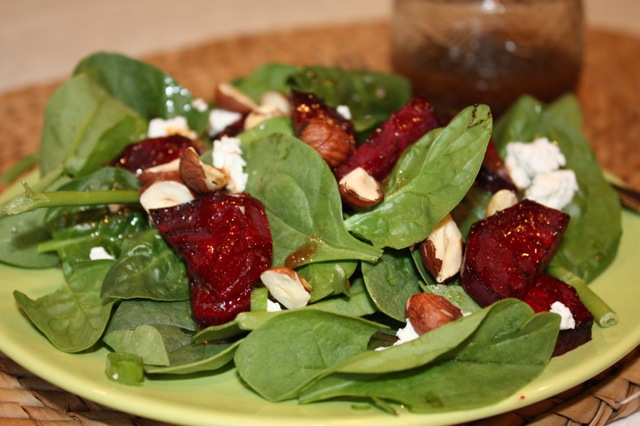 I'm back in the kitchen after a long time away. I've been back here and there to Portland but we have returned for a good long time. My husband is on sabbatical and we have taken full advantage of the travel time with our 15 year old. In addition to the posts on Sacramento, New England and the Oregon Coast we also spent time in the Midwest with Grandma and Grandpa. We got to go golfing and see their 'new' home which is perfect for them. The fall season of sports has embarked upon us and the carpools are organizing with 20 shifts back and forth to the high school this week alone!
Here's a salad for the upcoming season combining beautiful roasted beets and dark green spinach with the creamiest chèvre (goat cheese) and your choice of toasted nuts. The vinaigrette is easy; double the recipe and save the leftover in a glass jar for your next salad.  I have to say I had recently discovered the Vermont Creamery in an article that was singing the praises for their cultured butter. I've looked for their products at local stores and yesterday when I was buying chèvre I picked one up that looked great. I got home and to my delight I'd purchased a Vermont Creamery chèvre. And to my continued delight the chèvre was creamy and delicious and a must in this salad. In fact I scooped out the last bits of chèvre in the bowl with a spoon and my daughter pointed a finger at me and said 'you ate that like it's ice cream!'. 'It's better than ice cream' I replied. My husband commented, 'she's serious about that'. I will continue to be on the lookout for Vermont Creamery's cultured butter.
Roasted Beet and Spinach Salad
1 bunch or 5 to 6 small beets
1-2 tablespoons olive oil
sea salt and pepper
fresh spinach  to fill your salad bowl
chopped green onions or chives, a handful
1/4 cup crumbled goat cheese/chèvre or to taste
1/4 cup chopped hazelnuts or your choice
Preheat oven to 350 degrees. Wash, peel and slice beets. In roasting pan combine olive oil and season with sea salt and pepper. Roast beets, turning often, for about 20-25 minutes.
While beets are roasting, chop nuts and in small ovenproof bowl toast the hazelnuts for the last 10 minutes of roasting time. Watch the nuts closely, if they are thin, 10 minutes may be too long to toast. I cut my hazelnuts in 1/2 and they were perfect toasted for 10 minutes. Prepare spinach, slice green onions and crumble chèvre for salad. When beets are done roasting, remove and cool a few minutes. In a bowl add spinach only. Toss dressing with spinach. After tossed, add toppings and serve.
Balsamic Vinaigrette
In glass container with lid combine:
1/3 cup olive oil
2 tablespoons balsamic vinegar
1 tablespoon apple cider vinegar
1 small clove garlic, pressed or chopped
1/4 teaspoon dijon mustard
2 tablespoons lemon juice
Refrigerate leftovers and use on almost any salad. Very versatile.
Sources: These recipes are adapted from:  Roasted Beet Salad – Primal Bliss Facebook and the vinaigrette from – MyWholeFoodLife