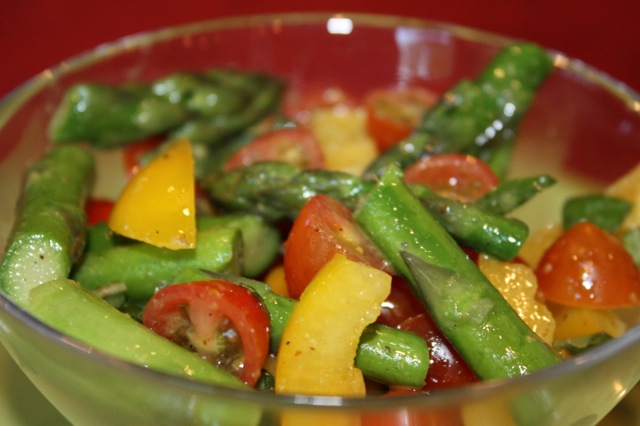 Spring is in the air and asparagus are in season. They are so good and fresh this time of year. Here's a nice, quick salad recipe with steamed asparagus highlighted and accented by a tangy vinaigrette, cherry tomatoes, yellow peppers and fresh basil. I loved that the dressing can be made in the salad bowl and the vegetables mixed in. The recipe is based on the Cherry Tomato and Asparagus Salad from MyRecipes.com. The original recipe added gorgonzola cheese and avocado. I'm going to recommend adding the avocado on top of the salad along with chèvre cheese. I tasted the salad both ways – without the added toppings and with the avocado and chèvre and quite frankly liked it both ways. I would definitely add the avocado as a topping because in case there are leftovers. Enjoy this spring salad as a side dish or add quinoa, avocado and chèvre for a main meal.
Tomato and Asparagus Salad
1 bunch of thin asparagus, trimmed and quartered
1 dry pint of cherry tomatoes
1 cup basil leaves, chopped
1 chopped yellow pepper
Optional toppings: avocado slices and chèvre cheese crumbled
Lemon Dijon Dressing:
1/4 cup extra virgin olive oil
2 teaspoons fresh lemon juice
2 teaspoons dijon mustard
Sea salt and pepper to taste
Steam trimmed and quartered asparagus for 3 minutes by bringing 2 inches of water to boil in the bottom of a medium sized sauce pan with inserted steamer basket. After 3 minutes, take lid off and set asparagus aside to cool.
In a medium sized salad or mixing bowl, mix dressing ingredients with a whisk until smooth. Add asparagus, halved cherry tomatoes and chopped yellow pepper. Mix vegetables with dressing thoroughly. Serve at room temperature with optional topping of avocado and chèvre cheese. Serves 4-6.