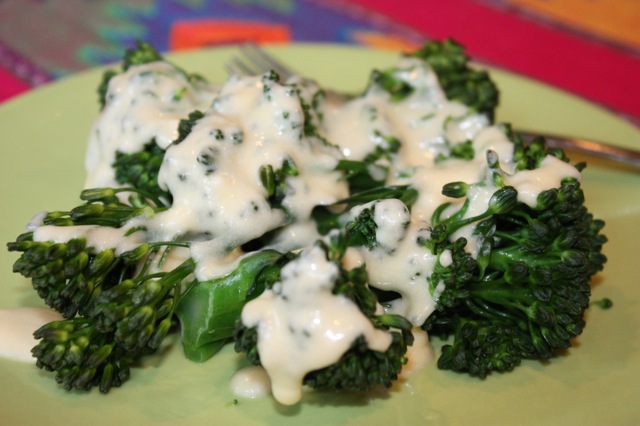 When I was a new mom I remember my own mother exclaiming that you're not a good cook until you can make a white sauce. So I asked what a white sauce was and found out that it's the base of many yummy dishes and it is the base of this cheese sauce. At that point, I was determined to be a good cook so I learned how to make a white sauce from Betty Crocker and I've been using that ever since. During that same time period, I would visit my sister and her husband and they would often steam vegetables – cauliflower, carrots, etc. and make a cheese sauce to entice their children to eat them. And eat their vegetables, they did. This is an excellent way to prepare veggies as they retain nutrients when steamed. My own family loves a cheese sauce, too, and it's so quick and simple to make. Here's the recipe based on Betty's white sauce and Carol's wise advice and my sis and husbands brilliant method of creaming up their veggies.
Broccoli with Cheese Sauce
2 tablespoons butter (the real stuff)
2 tablespoons flour
1 cup milk (your choice but the more fat the tastier, I used 2% but was tempted to use 1/2 and 1/2)
1 cup shredded cheese, your choice (I used cheddar)
sea salt and pepper to taste
In a small fry pan on medium to low heat melt butter. Immediately after butter is melted add the flour and stir until combined. Then add milk – I add 1/2 cup at a time – stirring constantly – add second 1/2 cup when sauce has thickened. Using small whisk combine well and heat to simmer/light boil for one minute. Remove from heat and stir in the cheese and season with salt and pepper. Serve over steamed vegetables immediately.  Makes about 1 cup sauce.  Serves 4-6.
Steamed Broccoli
In a medium sauce pan add 1 inch water and bring to a boil. Set steamer basket on top – make sure water is not touching basket. Prepare broccoli for cooking. Place broccoli in steamer basket for 4-6 minutes. Keep heat on medium to high. Watch your broccoli. I steamed for 5 minutes and it was to my liking, a little crunchy – but don't overcook – your broccoli may be in smaller piece and cook faster. Steaming is a very healthy way of eating broccoli because the vegetables retain the nutrients. Serve immediately with cheese sauce.  Source: Adapted from Betty Crocker's White Sauce.