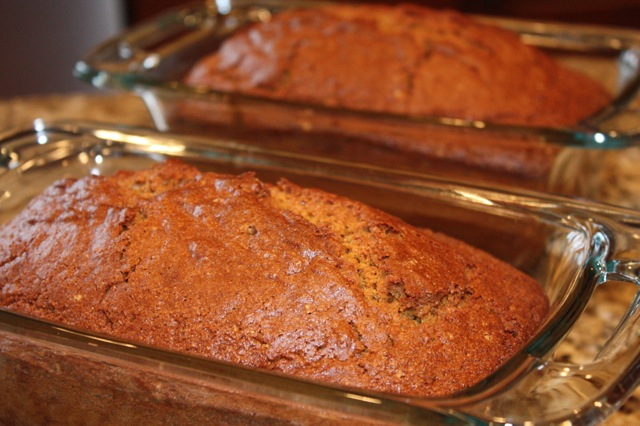 I use my adopted Betty Crocker Cookbook, Vintage 1987 via my in-laws. This cookbook was given to my husband when he was Denver bound for an internship in his junior year of college. Now, I don't see any notes in this book written by my husband, then fellow student, but I must say I've enjoyed his Betty Crocker Cookbook over the years for the tried and true recipes and tips on how to blanch vegetables, or need a conversion of ingredients. Betty Crocker has served us well and I keep her around. I've made a version of Betty's Pumpkin Bread for years now and the bread would be a great addition to a holiday snack tray or a gift for a friend. The recipe yields two loaves which is always a bonus in my book.
Pumpkin Bread
2 2/3 cups sugar
2/3 cup melted butter
1 can (16 oz) pumpkin
2/3 cup water
4 eggs
3 1/3 cup flour (all purpose or whole wheat)
2 teaspoons baking soda
1 teaspoon sea salt
1 1/2 teaspoons ground cinnamon
1 teaspoon ground cloves
1/2 teaspoons baking powder
optional (2/3 cup coarsely chopped nuts)
Warm oven to 350. Grease bottom of two 9 inch loaf pans with softened butter. Mix all ingredients together in large mixing bowl. Combine well with blender. Pour batter into greased loaf pans. Bake  60 to 70 minutes at 350 degrees or until a wooden pick comes out clean. Cool 5 minutes and loosen sides of bread at edges of pan with knife. Turn bread onto cooling rack. Makes 2 loaves.
Source: Adapted from Betty Crocker Cookbook