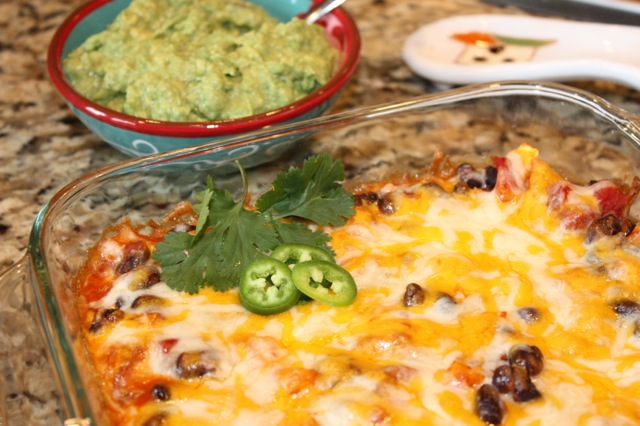 Our students have at least a week under their belt and I've noticed in our home the television is on and that loud constant noise of a football crowd in the background. The Vikings pulled in a win in overtime so my husband is happy and I cooked up a bean dip for lunch derived from Aggie's Kitchen to go along with the season. The dip was very simple taking maybe 10 minutes to put together and 25 minutes in the oven and I served it right away. We loved it with guacamole, cilantro and jalapeños but we could have added salsa, sour cream and black olives for even more flavor.
Southwest Black Bean Dip
1 – 15 ounce can black beans, rinsed and drained
1 – 15 ounce can diced tomatoes (Mexican flavored if available), drain about 1/3 of liquid from can
1 red, yellow or orange pepper, chopped
2 teaspoons cumin
2 teaspoons chili powder
2 garlic cloves, minced or pressed
sea salt and pepper to taste
2 cups shredded cheese (I used combo of cheddar, monterey jack and mozzarella)
Topping options:
guacamole (mash two ripe avocados with juice from one lime and sea salt and pepper)
fresh cilantro
fresh sliced jalapenos
sliced black olives
sour cream
salsa
Preheat oven to 375 degrees. Mix beans, tomatoes, peppers and spices together in a large bowl. Add 1/2 cup of the shredded cheese. Put mixture in 8×8 baking dish or casserole and top with 1 1/2 cups of cheese. Bake for 25 minutes and serve with tortilla chips and your choice of condiments.
Source: Aggie's Kitchen