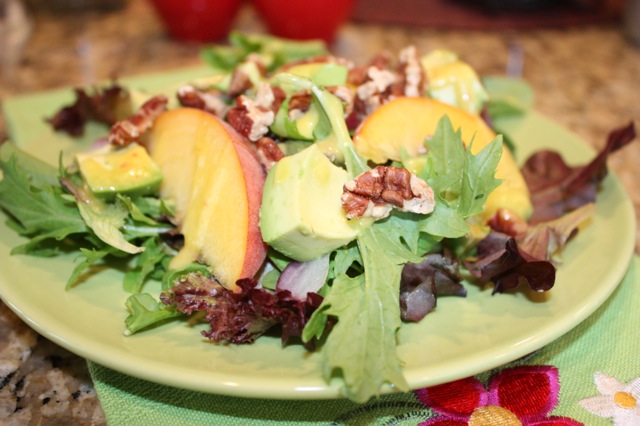 I bought a big bag of peaches this week and was craving a salad with fresh peaches in it. I really love using fresh seasonal fruit in salads and since I posted the Strawberry Spinach Salad I've decided I really like the fresh fruit blended in the dressing. Taste of Home had a great looking peach salad and a bonus of bacon strips in their salad (yum!) and that sounds divine but I was really wanting to put together a purely vegetarian salad so I removed the yummy bacon but added avocados. So if this salad sounds good and bacon in it sounds better – go for it or enjoy the porkless version.
Peach Avocado Salad with Pecans
Salad:
1 1/2 medium ripe peaches, peeled or unpeeled
6 cups spring mix or your choice of salad greens
2-3 tablespoons chopped red onion
1 avocado, sliced
1/3 cup pecan pieces
In serving bowl place spring mix. Chop red onions and add to greens. Just before serving add sliced avocados and peaches. In small sauté pan on stove top place pecans and toast on medium-low heat for 5 minutes or until lightly browned. Watch closely so they don't burn. Sprinkle pecans on top salad. Serve dressing on the side or drizzle on top.
Dressing:
1/2 medium ripe peach, peeled or unpeeled
1 tablespoon honey
2 tablespoons lemon juice
3 tablespoons apple cider vinegar
1/3 cup olive oil
sea salt to taste
In blender put chopped 1/2 medium peach. Blend in honey, vinegar, lemon juice and salt to taste. Then slowly (through that hole in the top) add the olive oil until well blended.
Source: Adapted from Taste of Home. Serves 4-6.