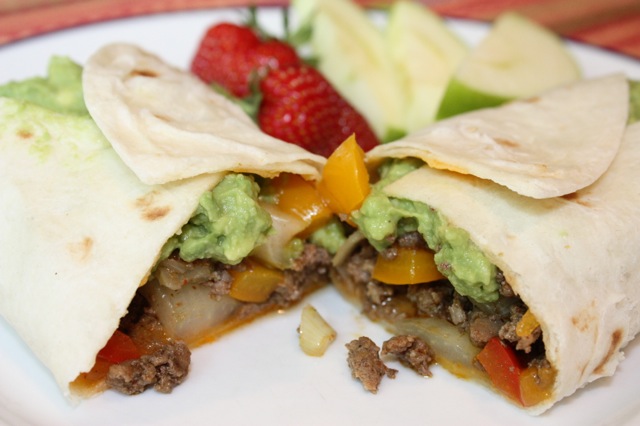 So, it's summer and you're looking for a quick easy summer meal?  This is a one pan meal that you can cook as fast as you can brown the hamburger (almost). I guess you could say this was my experimentation when I got tired of buying those premixed taco seasonings…If you're going low carb skip the tortilla and make a fajita salad out of the fixings. Just add lettuce to a plate and top with fajita beef and fixings.
Beef Fajitas
2 tablespoons olive oil
1 pound good quality hamburger
1 red or orange pepper, sliced/julienned
3 cloves garlic, minced
1 medium onion, sliced/jullienned
1 teaspoon cumin
1 teaspoon chili powder
sea salt and pepper to taste
Fajita Fixings:
tortillas
shredded cheese
sour cream
salsa
Brown the hamburger and onion with the minced garlic in a large frying pan with olive oil. When hamburger is about 1/2 cooked add sliced (in strips/julienned) pepper and onions. After meat is thoroughly cooked and brown (vegetables will be tender), drain meat mixture, if necessary. Return meat mixture to low heat and add cumin and chili powder and mix thoroughly.
Heat tortillas with shredded cheese in the oven (on baking sheet) until cheese is melted. Remove immediately and add fajita beef and vegetables. Add toppings and serve immediately. Serves 4.
Source: Jackie Mack, Lingonberry Lane.