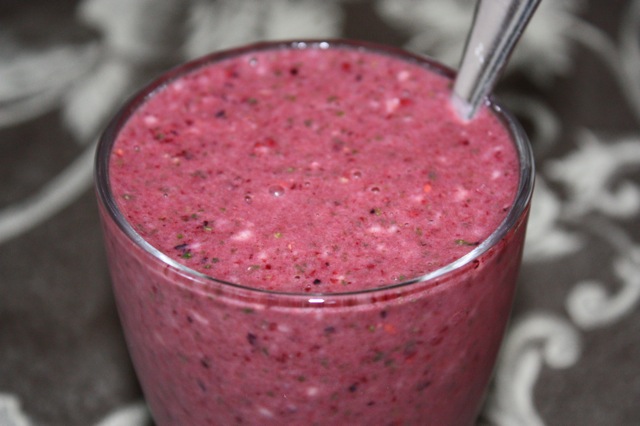 We're ramping up for a great weekend of sunshine in Portland and an ice cold smoothie is always refreshing. I'm going to throw a curve ball to some of you and add greens to this smoothie…but don't tell the kids or even your significant other. If you have a great blender, who needs to know? It's best to tell them after the fact. I'm not one to keep secrets but I've been known to sneak in healthy ingredients and inform later. I know you've heard about greens in a smoothie and really it's a great place to get your greens.  You can see the green flecks in my smoothie but I personally don't taste them. The smoothie is banana berry flavored and complimented by the coconut milk and maybe a tiny hint of greens.  So be adventurous, if you haven't before and throw in some greens in your next smoothie.  Here's a recipe for a warm weekend treat and a green nutritional bonus.
Banana Berry Smoothie
1 cup unsweetened coconut milk (or almond, hemp or your favorite milk)
3 large romaine lettuce leaves or big handful of spinach
1 banana
1 cup frozen berries (I used blueberry/blackberry/strawberry/raspberry combo)
Optional adds: 1 tbsp chia seed gel (1 part chia seeds to 9 parts water – gel for 30 minutes, refrigerate), 1 tbsp flax seed meal or 1 tbsp wheat germ, 1 tbsp flax seed oil
Wash lettuce or spinach. Add all ingredients to blender and mix well.  Serves 2.
Source: Jackie Mack, Lingonberry Lane