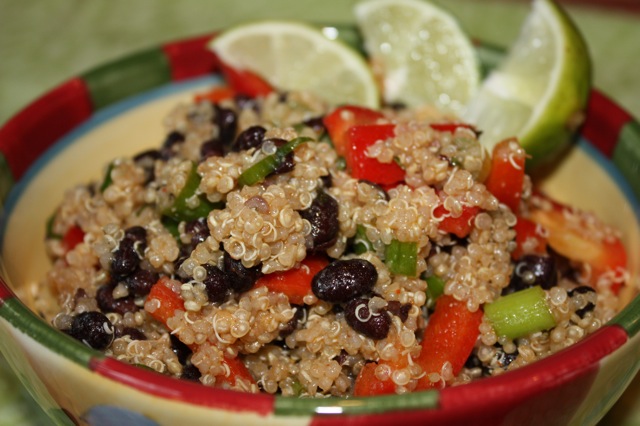 With Cinco de Mayo just around the corner and spring in the air here's a recipe with a little kick for you. Quinoa (keen-wah) is a protein rich grain the Inca's considered 'gold', according to WHFoods. Quinoa is nutty flavored and a complete protein meaning it contains all 9 essential amino acids needed for the human diet.
I've adapted a recipe from Kalyn's Kitchen. I'd recommend cooking the quinoa ahead of time to allow it time to cool.  I made this as a quick dinner and had to put the quinoa on a plate in the refrigerator to cool enough to make the salad. We had just the salad for dinner and it was light but satisfying and most importantly carried us through a 3+ hour 3D showing of the Titanic (huge hit with our daughter!). This would be a great side dish for a Cinco de Mayo buffet or serve the quinoa with a green salad for a complete meal. Double the recipe for the quinoa and dressing and send to school or work for a shake up in the lunch department.  Add a little extra dressing to the Baja Quinoa after it's been refrigerated overnight – it keeps well.
Baja Quinoa
3/4 cup quinoa (rinse if needed and cook ahead to allow cooling time)
1 1/2 cups water (add more if needed)
1/2 teaspoon sea salt
1 red bell pepper, diced
1 can black beans, drained and rinsed
1/2 cup green onions, sliced
Toppings options
fresh cilantro
slices of fresh lime for squeezing
fresh sliced avacados
Baja Dressing
2 tablespoons (or more) fresh squeezed lime juice
1 teaspoon ground cumin
1/2 teaspoon chile powder
1/4 cup extra virgin olive oil
2 small cloves garlic, pressed
1/2 teaspoon dried oregano
sea salt and pepper to taste
Check quinoa package directions and rinse as directed. In medium saucepan, combine quinoa, water and salt and bring to a boil, reduce heat and cook about 15 minutes or until all the water is absorbed.  If the quinoa isn't tender enough to your liking, add a little more water and cook longer. Fluff the quinoa and let cool, using the quinoa on a plate in the refrigerator method if needed.
Drain the beans and rinse in a colander. Let beans dry in a colander while preparing other ingredients.
Rinse and dice bell peppers and green onions into small slices. Chop cilantro, slice limes and avocado and put them on/in a separate dish for topping options.
When quinoa is cool, combine quinoa, beans, red peppers and green onions in a serving bowl. Add dressing to your liking to moisten the salad.
Serve with lime wedges, cilantro and avocado slices for toppings. Serves 4.
Source: Adapted from Kalyn's Kitchen