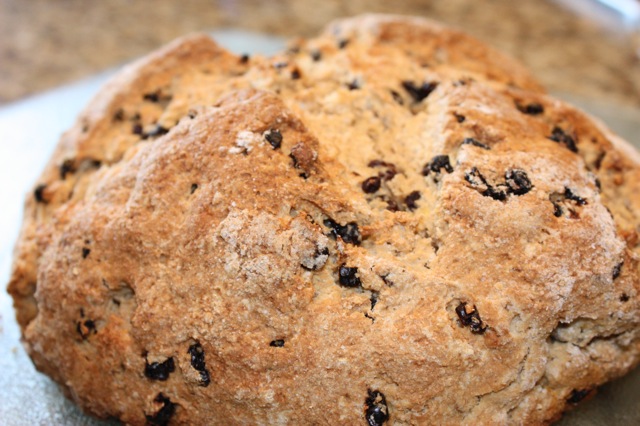 This is the week to embrace my Irish heritage. Today I experimented as I've never made Irish Soda bread and it turns out it was a fun and delightful experience. I adapted Ina Garten's soda bread recipe from the Food Network. Traditionally this bread was made from white flour with savory flavor. According to Wikipedia, 'whole meal' soda bread is known in Ireland as 'wheaten bread' and is usually sweetened. I used whole wheat pastry flour for my bread and embraced Ina's sweet ingredients using orange zest and dried currants. I loved the product but am partial to having a piece straight out of the oven with Kerry Gold butter. After all, that's when bread's in it's best form.  From what I've read, it's good to have a crowd on hand when you make this, as soda breads are best the 1st day. Don't forget serve it slathered in butter.
Irish Soda Bread with Currants
4 cups whole wheat pastry flour
4 tablespoons sugar (I used organic cane sugar)
1 teaspoon baking soda
1 1/2 teaspoons sea salt
4 tablespoons (1/2 stick) cold unsalted butter, cut into small pieces
1 3/4 cups buttermilk
1 egg, beaten
2 teaspoons grated orange zest
1 cup dried currants (or raisins)
Preheat your oven to 375 degrees. Butter the bottom of a baking dish.  I used a 9×13 pan.
Combine the flour, sugar, baking soda and sea salt in an electric mixer, preferably with a paddle. Cut the butter and add, mixing on low speed until the butter is combined with the flour mixture.
Lightly beat the egg with a fork in a small bowl. Add the buttermilk and orange zest to the egg and combine. Mixing on low speed, slowly add the buttermilk mixture to the flour combination. Mix 1 tablespoon flour with the 1 cup of currants in a separate bowl so the currants are coated. Add the currants to the flour mixture on low speed. The dough will be wet looking.
Turn the dough onto a floured surface and knead a few times to form into a round loaf.  Place round loaf on buttered pan or baking sheet. Cut an X in the top of the bread with a knife.
Bake at 375 degrees for 45-55 minutes or until golden brown and a tester comes out clean. The bread will have sound hollow when tapped.
Serve warm with lots of butter…Kerry Gold is a great choice.