Salmon patties have become a comfort food in our home.  They're a go to meal when I have 2 cans of good Alaskan sockeye salmon to spare and some nicely ripened avocados and a lime and not much time to prepare dinner.  I grew up eating salmon patties on occasion given that my Mom would can salmon and then some every summer so we had a stock for the year.  Salmon patties, salmon loaf and salmon salad sandwiches were staple meals in our home on the river.
Only in the past year in my own home have I added the guacamole to the salmon patties with melted cheese on top.  We thought it was a fantastic add and combination.  So, it has stuck and we love a good Alaskan salmon pattie night in Portland.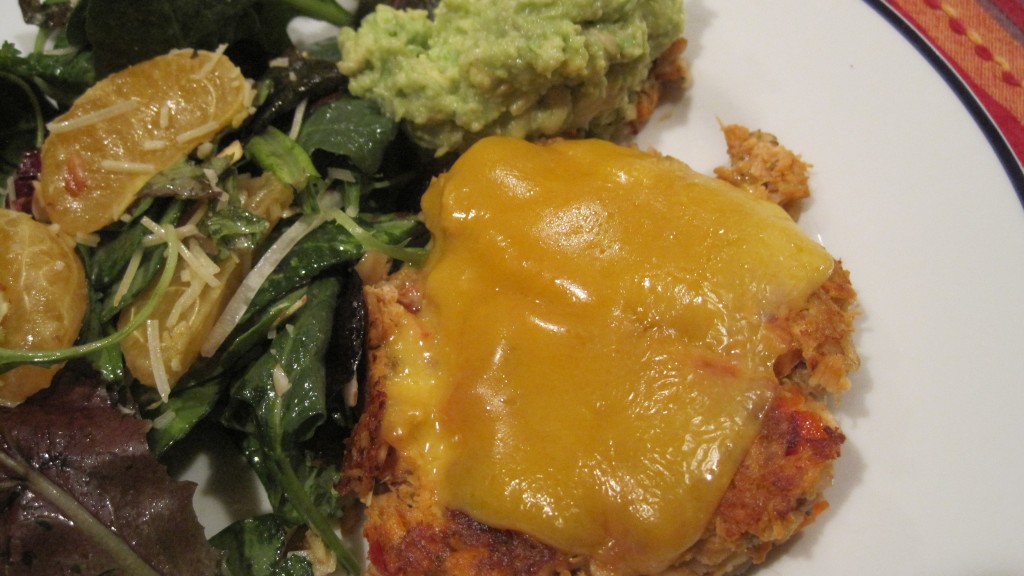 Salmon Patties with Cheddar and Guacamole
2 beaten eggs
2 – 7.5 ounce cans, wild sockeye salmon, undrained
1 teaspoon dried dill or dried kelp (omit salt if using kelp)
1 cup oatmeal
1/2 red pepper, chopped
1/4 red onion, chopped or 2 green onions, chopped
Juice of 1/2 of lime
Slices of cheddar cheese
Sea salt/Pepper to taste
Beat eggs in bottom of mixing bowl.  Add salmon and juices and flake the salmon with a fork while mixing with the eggs.  Add the rest of ingredients listed and mix well.
Divide into 8 small patties or 4 large patties.  Melt generous dollops of butter or coconut oil in non stick pan on medium heat. For 4 patties, I use a measuring cup and put 1/2 cup of salmon mixture in the pan and form the patties with a spatula.   Cook on first side until nicely browned.  Turn and add sliced cheddar cheese on browned side to melt.  Cover the pan to melt cheese faster.
Serve with guacamole.
Guacamole
2 large avocados, mashed (I used small potato masher – so easy!)
juice of 1/2 of lime
Sea salt and pepper to taste
Serve immediately.