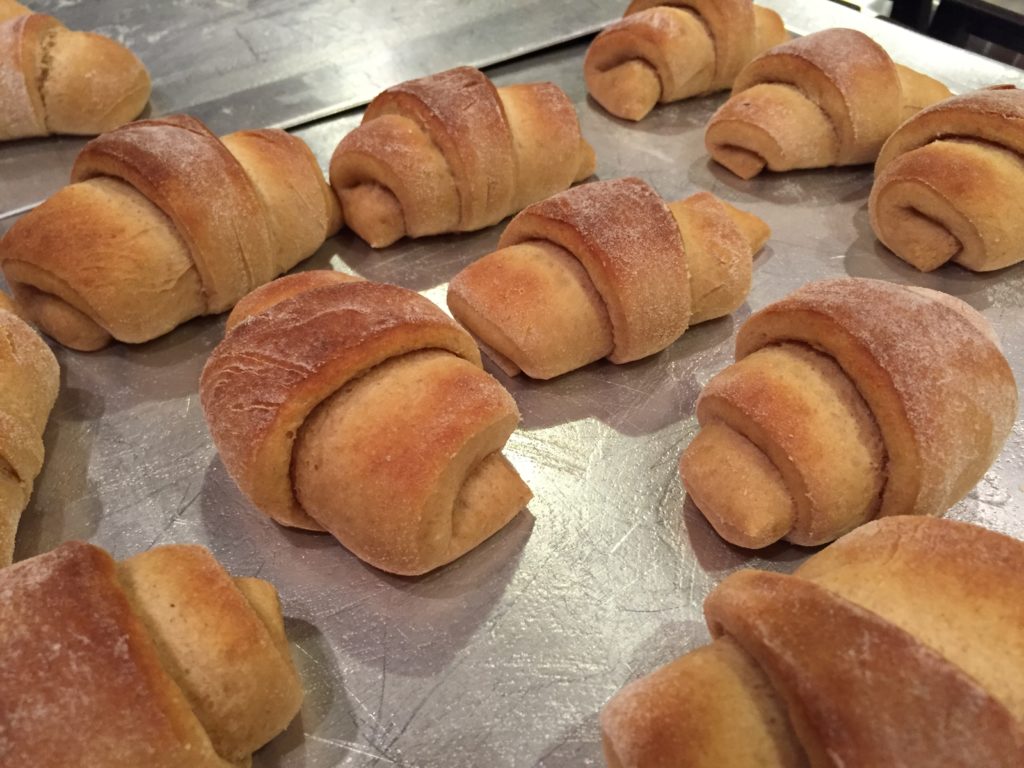 Many moons ago when I joined my husbands family and witnessed the magic of a Midwest baking extravaganza in the farm house kitchen. My mother-in-law would spend what appeared to be all of December baking Christmas cookies rolled out, ginger cookies rolled out, peanut butter blossom, breads in the shape of candy canes with red/white frosting, kringles, etc; you name it, she made it. Lefse,which is an amazing art in itself, also fit into her December schedule. The baked goods must have frozen well because Arloa's creations were all out for the big family Christmas celebration. If we were lucky enough to be around for Christmas Day breakfast, we would be the recipients of the amazing candy cane bread. One of the non-sweet treats that we waited for on Christmas Eve was her crescent rolls. I was truly amazed at the homemade treasures she would create every year by hand. By hand I mean the old fashioned kneading way – no bread maker. The baker's treats that have become traditions in our home are the lefse, ginger cookies and the crescent rolls. My husband spearheads the lefse and ginger cookies production. My daughter and I usually share the making of the crescent rolls for Thanksgiving and Christmas. The dough can also be used as a base for sweet rolls – my daughter plans to try her hand at sweet rolls this Christmas.
Today I bring you the bread maker's version of Arloa's Crescent Rolls. I hope you enjoy them as much as we have over the years. Merry Christmas.
Arloa's Crescent Rolls
1 cup milk – warm to 105-115 degrees
2 packages yeast – 2T
1/4 cup sugar
2 eggs
1/4 cup softened butter
2 1/2 cup white flour
1 cup wheat flour
1/8 cup molasses
Melted butter with pastry brush
extra flour for rolling out dough
Warm milk to 105-115 degrees. Mix in sugar and sprinkle yeast on top of milk. Let stand for a short time and mix to dissolve. Pour milk mixture into bread maker pan. Add the eggs, 1/4 cup butter, white and wheat flour and molasses. Set bread maker on dough cycle for wheat rolls and start.
When dough cycle is completed it should be nicely risen to top of pan or beyond. Take dough out and flour a hard surface. Cut the dough in half. Rollout half of the dough into a circle about 12″ round. Spread with melted butter with a pastry brush. With a pizza cutter, cut into 16 wedges (just like cutting a pizza into 16 pieces). Roll up, beginning at the wide end. Place rolls with points underneath on a greased baking sheet (this is important because if not tucked underneath the points will be sticking up after baking). Cover with towel. Let rise for approximately 10 minutes. Bake in 400 degree oven for 10-12 minutes. Place rolls on cooling rack and brush with melted butter. Rolls freeze well.