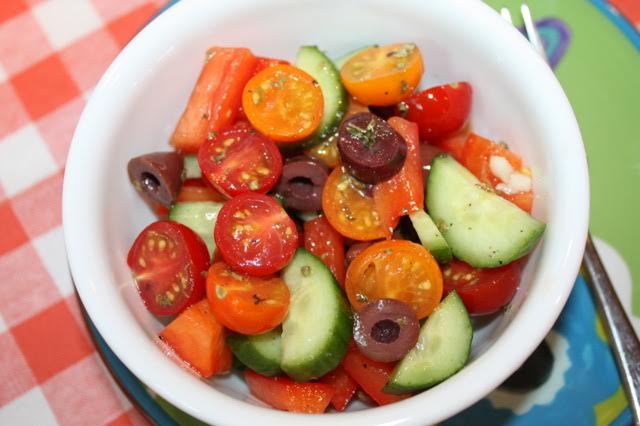 We had an unusually wonderful harvest of our cherry tomatoes over the weekend. I whipped up this simple salad to highlight the sweet little lovelies. The vegetables are fresh and crunchy and the dressing is light but flavorful. A great combination. To make it a true Greek salad feel free to add red onions and feta.
Garden Greek Salad
2 small cucumbers, sliced and halved (or one medium sized)
1 red pepper, chopped
2 dozen small cherry tomatoes, halved
12 kalamata olives, sliced
1 large garlic clove, minced
1 tablespoon olive oil
1 teaspoon red wine vinegar
1/2 teaspoon dried oregano
sea salt and pepper to taste
Options: add chopped red onion and feta
Combine all cut vegetables and garlic into a medium sized bowl. Measure out the dressing the olive oil, the vinegar, oregano and salt and pepper and add directly to the mix of vegetables. Serve immediately.
Serves 2-3.
Source: Jackie Mack, Lingonberry Lane