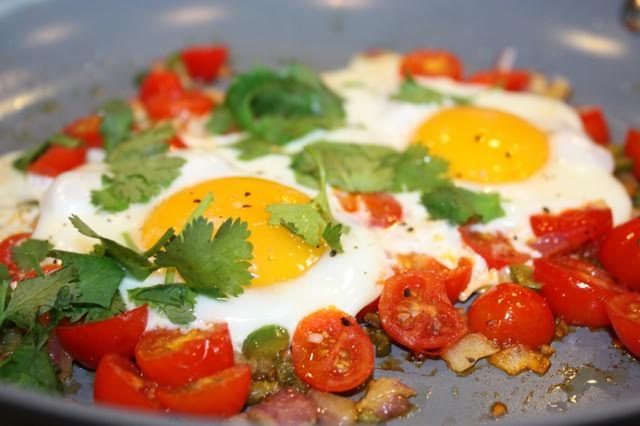 With Cinco De Mayo around the corner we're all thinking what kind of new dish can we concoct for the occasion? How about a breakfast dish? This is a colorful, fresh and hearty breakfast that will start your day with a burst of nutrients.
2 tablespoons olive oil
Handful of grape tomatoes, sliced
3 tablespoons red onion
1 serrano pepper, seeded and chopped
1 clove garlic, minced
2 eggs
1/4 cup cilantro, chopped
juice of one lime
salt and pepper to taste
In a warmed skillet, add olive oil, tomatoes, onion, pepper and garlic. Saute for about 3-4  minutes. Break eggs onto the tomato mixture and cook sunny side up. Cover pan to cook top of eggs to your liking. When eggs are done cooking, add salt and pepper, lime juice and cilantro. Serve warm.
Adapted from: New Seasons