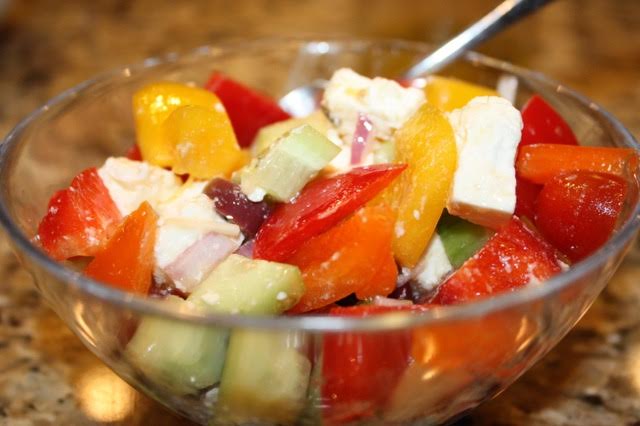 Fresh salads are always a welcome add to a lunch or dinner menu. This salad has a crunchy, fresh and flavorful taste and the feta adds a rich filling protein. It really could be a lunch or dinner on it's own. I made the salad last night for dinner and finished it for lunch today. A hint on the dressing: it's much better after an overnight – the flavor intensifies and it's yummy.
Greek Chopped Salad
Salad
large handful of grape tomatoes, halved
1/2 red pepper, chopped
1/2 orange pepper, chopped
1/2 yellow pepper, chopped
1/2 cucumber, peeled and chopped
bit of red onion, chopped, about 3 tablespoons
kalamata olives, pitted and sliced
4 ounce block of feta, chopped in squares
Dressing
1/4 cup olive oil
1 tablespoon red wine vinegar
2 teaspoons fresh lemon juice
1/2 teaspoon dried oregano
1 clove garlic, crushed or chopped
salt and pepper to taste
Prepare vegetables and olives and combine in salad bowl. Add dressing ingredients into tight sealed container. Shake to combine. (Dressing can be made a day ahead for flavor enhancement). Dress the salad. Top with feta. Serves 4.
Inspired by: Lunds & Byerly's Greek Salad