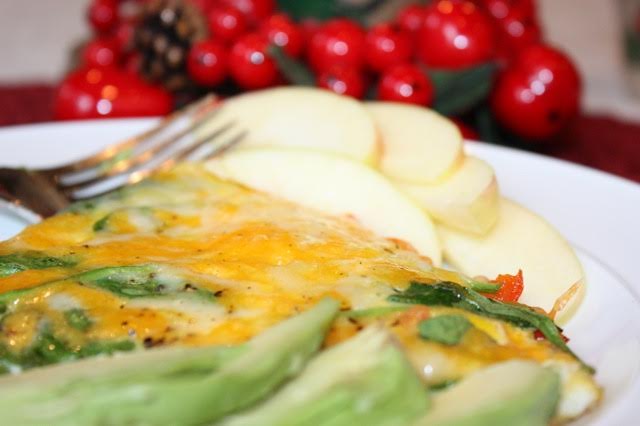 If you just can't imagine taking another bite of turkey and the fixings, here's a light breakfast option without the meat. A stovetop frittata is a quick, simple and healthy breakfast, brunch or anytime of day meal. It can be served with a side of avocado and fruit to round out the nourishing meal. You can also get creative and sub out the vegetables for your choice  of veggies.
Veggie and Cheese Frittata
8 eggs
2 tablespoons butter
1/2 green pepper, chopped
1/2 red pepper, chopped
2 tablespoons onion, chopped
2 handfuls of fresh spinach
1 cup shredded cheese, your choice (I used cheddar and Irish natural cheddar)
In a large skillet melt the butter on low heat. In a bowl beat the eggs with a fork. When butter is melted add the chopped peppers and onion and sauté for a few minutes. Add the eggs, the spinach and shredded cheese. On medium to low heat cook the eggs until they are firm to your liking. I covered the top of the skillet so the top would cook more evenly. as cheese melted. Serve with sliced avocados and a serving of fruit.
Source: Jackie Mack, Lingonberry Lane