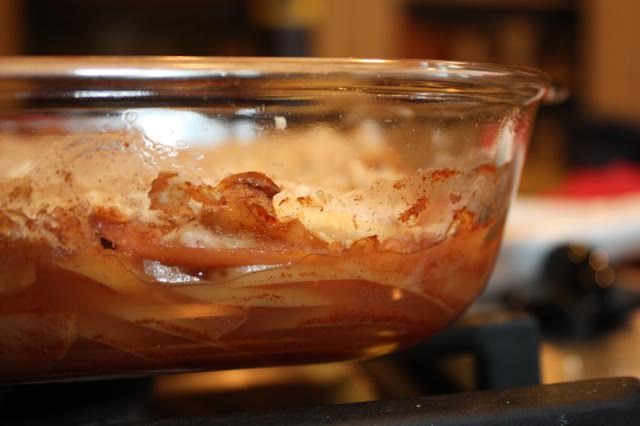 Fall season has arrived and 'tis the season to find every kind of apple you can imagine in your grocery store. One of my favorites treats this time of year is apple crisp. This version is a adapted from a recipe in my aunt's recipe book. I made ours with gluten free flour but you can use wheat flour if you'd like. This is a simple fall dessert for you or for company and like me, if you appreciate apples you may already have the ingredients in the house.
Apple Crisp
6-8 apples, sliced thin
1 cup water
1/2 cup sugar
2 teaspoons cinnamon
Cook the first 4 ingredients in a large saucepan over medium heat for 10 minutes. Stir about half way through to cook apples evenly.
1 cup flour (wheat or gluten free)
1/2 cup rolled oats (or gluten free rolled oats) – this ingredient is optional
1/2 teaspoon salt
1/2 teaspoon baking powder
1/2 cup brown sugar
1/2 cup butter (just out of refrigerator and cut into small pieces)
2 teaspoons cinnamon
Combine the last 7 ingredients in a mixing bowl using a pastry blender until it resembles a course meal.
Pour the apples into a 9×13 glass dish and top with the ingredients from the bowl. Bake at 350 for 40-45 minutes until bubbly. Serve warm with fresh whipped cream or vanilla ice cream. Serves 10 or more.