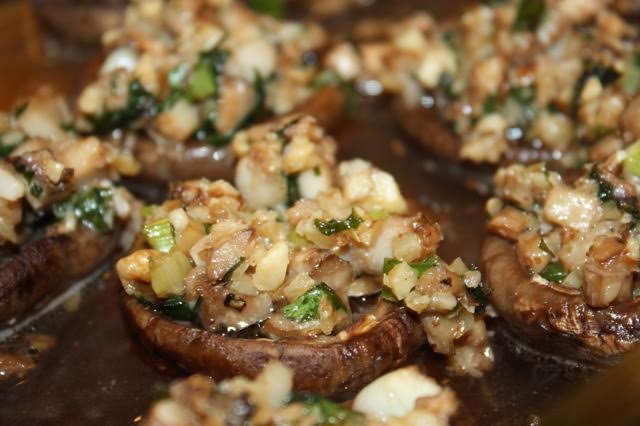 This recipe has been in my files for years. A version of it came from a neighbor friend and was a big hit in my book. But it got lost in the files and retrieved last weekend when we had a vegetarian over for dinner and I felt I needed a little something more than the roasted veggies we had planned to serve with our salmon. The flavors are very nice and I loved the garlicky, buttery, nutty baked goodness that was the final product.
Savory Baked Mushrooms
6 tablespoons butter + 2 tablespoons butter
3 cloves garlic, minced
1/4 cup minced fresh parsley
2 whole green onions, chopped
1/2 cup chopped walnuts
salt and pepper to taste
16 medium to large mushrooms (stems will be used as ingredient for filling)
Remove mushroom stems and melt butter in frying pan over low heat. Add the next 6 ingredients plus the chopped mushroom stems, chopped small (the size of the onion). Cook until mushrooms and onions are soft (about 10 minutes on lower heat) and remove filling into glass bowl temporarily. Using the same pan add 2 tablespoons butter and add the mushroom caps for 2-3 minutes. Stir the caps so they are nicely covered with butter. Remove the caps and put in  9×13 baking dish. Add filling to each cap. Bake filled mushrooms at 350 for about 20 minutes or until mushrooms are well cooked and sizzling. Remove and serve warm. Serves 6.
Option: add one small piece of brie to each cap after filling. Bake and serve!
Source: Adapted from my neighbor friend's recipe.