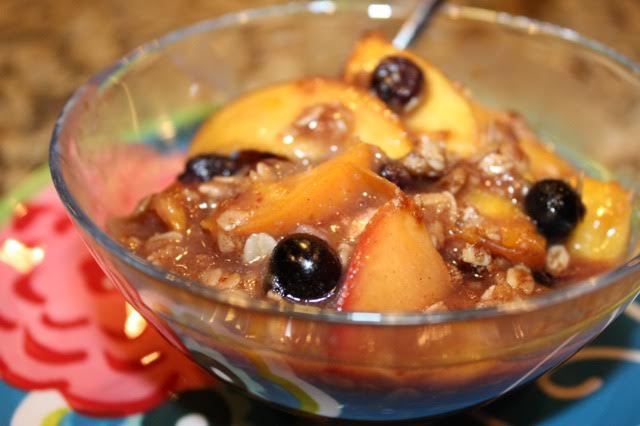 Nectarines are so good right now and readily available. As a result, I had a surplus. Since I don't make pies, crisps are my thing. They are easy t0 make and the finished product is always yummy. Here's a recipe with options. I made our version with the gluten free flour in the filling and almond flour in the topping but you can easily use wheat flour in the topping and the filling. Top this with your favorite vanilla ice cream and serve warm. Mmmm.
Nectarine Blueberry Crisp
Filling – Mix together in a medium bowl:
5 ripe nectarines, sliced thinly
1 cup fresh blueberries
2 tablespoons gluten free flour or all purpose flour
1/4 cup honey
Topping – In a medium bowl, combine with a pastry blender, until it resembles a course meal:
1 cup rolled oats (gluten free if desired)
1/2 cup almond meal or all purpose flour
1/4 cup coconut sugar or brown sugar
1/4 cup butter, cut into small pieces into bowl
In an 8×8 baking dish add the filling, then cover evenly with the topping. Bake at 350 for 40 minutes. Serves at least 6.
Source: Adapted from Kim Cravings – Easy Peach Blueberry Crisp