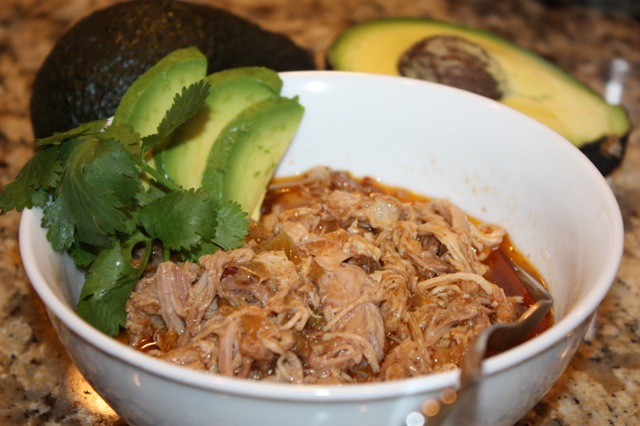 I love crock pot recipes and I've always loved shredded pork but have never made it myself. After adapting a recipe for shredded pork from Your Home Based Mom I'm a believer that slow cooker shredded pork is a keeper. This was a spicy recipe but you can adjust the heat by adding more or less chipotle pepper.
Chipotle Shredded Pork
4 pound boneless pork roast
1/4-1/3 cup canned chipotle pepper (in adobe sauce) blended on high in blender – I used 1/3 cup and the pork was zippy but delicious
2 four ounce cans fire roasted diced green chiles
1 large onion, chopped
juice of 3 limes + pulp if you desire
1/2 cup water
salt and pepper to taste
Put pork in large crock pot. Blend chipotle peppers in blender and measure desired amount. Add chipotle pepper and the rest of the ingredients on top of the pork. Set crock pot on low and slow cook for 8 hours. Shred pork with forks. Serve with avocado, cilantro and your choice of fixings in a burrito or on top of a salad. Serves many.
Source: Adapted from Your Home Based Mom.