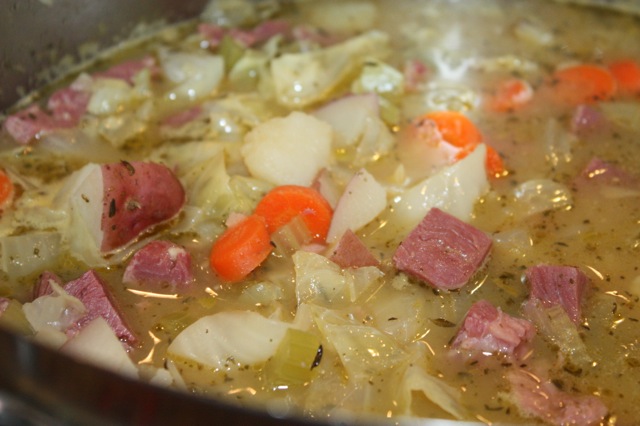 Here's an option for St. Patrick's Day in case you don't have all day to cook your corned beef. The ingredients are similar to the standard Corned Beef and Cabbage except they are cooked in a broth. The soup takes about an hour from start to finish with a bit of chopping. Perhaps the most difficult item to find is the already cooked corned beef. You may check your deli section of your local grocer. Trader Joe's carries an uncured cooked corned beef that I had bought in years past and heated in the oven for a more traditional fare.
Corned Beef, Cabbage and Veggie Soup
4 tablespoons butter
1 medium onion, diced
2 large cloves of garlic, minced or pressed
1 cup chopped carrots
1 cup chopped celery
4 cups chopped red potatoes
1/2 cabbage, chopped
8 cups low sodium chicken broth
1 pound (uncured) cooked corned beef, chopped
1 tablespoon dried thyme
1 tablespoon dried sage
salt and pepper to taste (may not need much salt)
In a large stock pot, melt the butter over medium to low heat and add the onions, garlic, carrots and celery. Sauté until softened, about 5-7 minutes, stirring frequently. Add the potatoes, cabbage, low sodium broth, corned beef and spices. Simmer on medium to low heat for 30-40 minutes until veggies are softened. Serve with a crusty bread or Irish Soda Bread.
Source: The soup was loosely adapted from Family Fresh Meals.