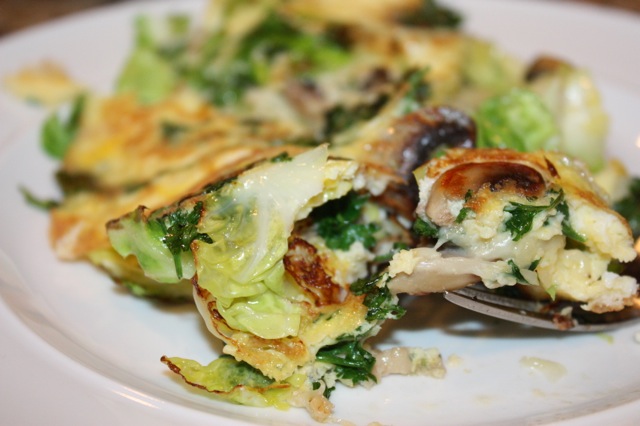 Omelettes provide a protein punch in the morning and I created a tasty one this week. I had brussels sprouts, fresh parsley and mushrooms in the fridge and decided to kick up my usual routine omelet a notch. Omelettes take just minutes to make and and are so healthy. I highly recommend this one with good greens and 'shrooms.
Winter Veggie Omelette
1 tablespoon butter
3 good sized brussels sprouts
4 good sized mushrooms
4 sprigs fresh parsley
2 eggs
sprinkle of parmesan cheese
salt and pepper
Rinse veggies. Heat small omelet pan and add the pat of butter. Spread the butter as it melts with a spatula. Cut brussels sprouts and mushrooms into pan and sauté in butter until browned. Add small pieces of fresh parsley at end of the sauté. After veggies are browned (a few minutes) add 2 beaten eggs, spreading egg around by lifting and angling pan. Add parmesan cheese and salt and pepper to taste. Cook until eggs are firm to your personal preference. With a spatula, take one side of the omelette and fold over to form a half fold traditional omelette. Serves one immediately.
Source: Jackie Mack, Lingonberry Lane