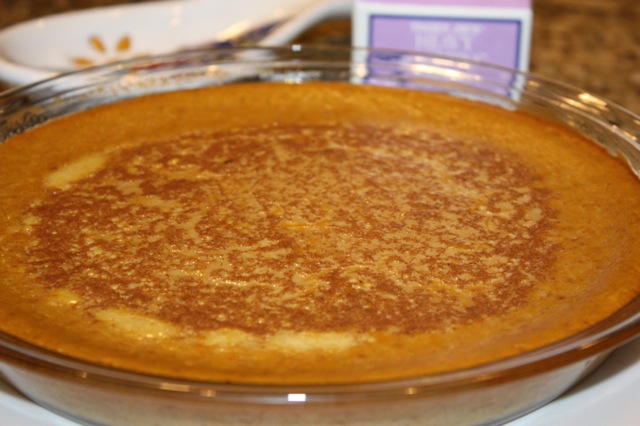 With the pumpkin holiday right around the corner it was time for a little gluten free custard in the house. I adapted this recipe from the Trader Joe's recipe on their 15 ounce can of pumpkin. The custard is a wonderful taste of fall, without the gluten. Serve chilled with fresh whipped cream and a little cinnamon on it. You can also bake the custard in individual ramekin dishes for a shorter time period for a lovely looking dessert topped with whipped cream.
Pumpkin Custard
1 – 15 ounce can pumpkin
1/2 pint or 1 cup heavy cream
2 large eggs
1/3 cup honey
1 teaspoon cinnamon
1/4 teaspoon sea salt
1/2 teaspoon ginger
1/4 teaspoon cloves
Preheat oven to 350. Mix all ingredients in large bowl with blender until smooth and creamy. Butter pie plate and add filling. Bake for 30-35 minutes or until custard is set. Center can still 'jiggle' slightly. Custard will set more while cooling. Cool completely. Serve with freshly whipped cream and a dash of cinnamon.
For a pretty individual dessert pour filling into individual ramekins and bake for a shorter time period.
Adapted loosely from Trader Joe's pumpkin pie recipe.
Updated 11/14/14