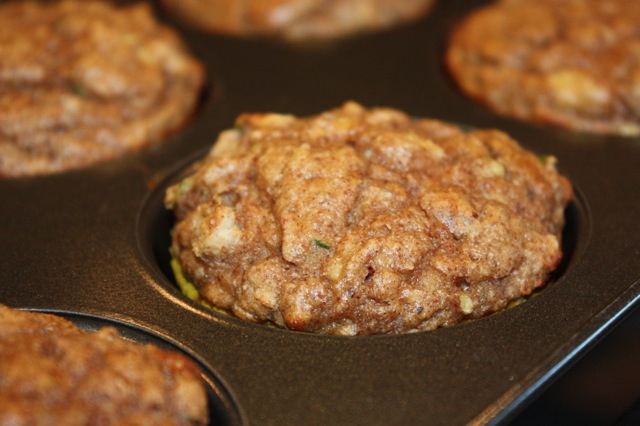 From experience, I would say that it's difficult to find a good solid recipe for gluten free/paleo baked goods. Most I've tried have turned out mushy and not good. I recently tried a recipe I adapted from Paleogrubs.com and their Paleo Banana Nut Muffins were good. The second time I made them I was inspired to add zucchini and I think that solidified my very first tasty gluten free muffin success. I did use butter in this recipe. You can substitute the butter for coconut oil for a true paleo version. These are a great lunch box snack for school or a breakfast treat.
Zucchini Banana Nut Muffins
4 bananas, mashed
4 eggs
1/2 cup creamy almond butter
2 tablespoons melted butter (or coconut oil for paleo version)
1 teaspoon vanilla
1/2 cup coconut flour
1 cup shredded zucchini
1/2 cup finely chopped pecans or walnuts
2-3 teaspoons cinnamon
1/2 teaspoon nutmeg
1 teaspoon baking powder
1 teaspoon baking soda
1/4 teaspoon sea salt
Preheat the oven to 350. Line a muffin pan with twelve paper liners. In large bowl, mix the mashed bananas, eggs, almond butter, butter and vanilla until well blended. Add the zucchini, finely chopped nuts, coconut flour and the rest of the dry ingredients. Blend well. Using a 1/3 cup measuring cup, fill the muffin liners about 2/3 full. You may have a bit of leftover batter and bake in another over safe dish. Bake for 20-25 minutes until a toothpick comes out clean. Eat warm with more butter and enjoy. Store the cooled muffins in the refrigerator in a sealed container.
Adapted from PaleoGrubs