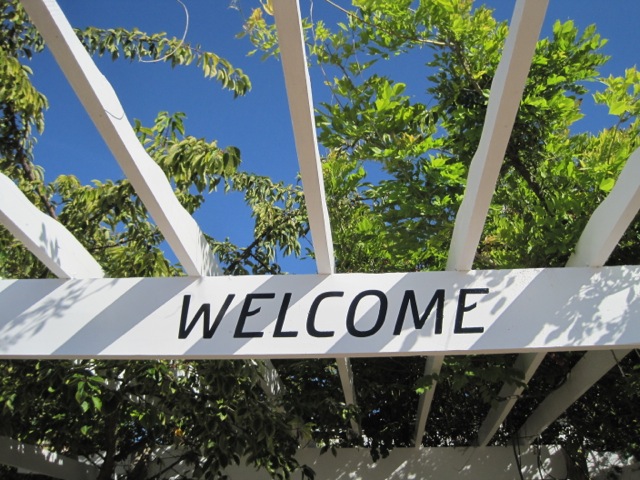 Our family took a Northwest vacation. I really love a local vacation. There's something magical about packing the car and driving north 4 hours and hopping a Washington State Ferry from Anacortes to Friday Harbor on San Juan Island. The trip up was relaxing. We stayed at my husband's cousin's home on our way up so we could get to the ferry early. You do have to arrive an hour and a half early to actually get a car on the ferry but it's painless, you just need time. And the waiting helps you get into the 'island time' mode.
We arrived at Friday Harbor by 2pm and found a great lunch spot at The Market Chef.  They had a grand selection of homemade salads, soup, sandwiches using local ingredients.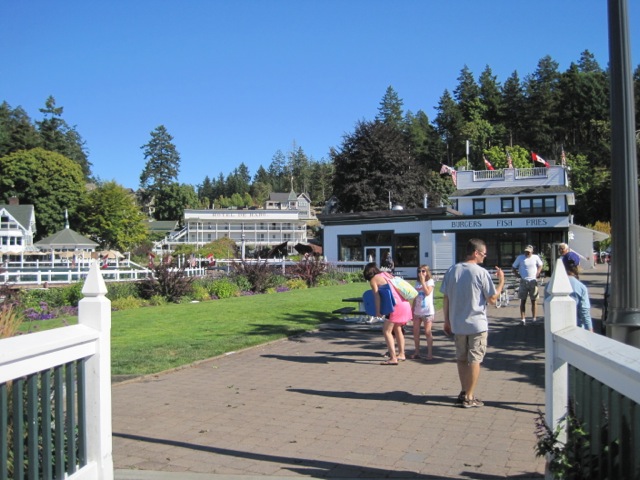 After lunch we toured the island and went up to adorable Roche Harbor. I could just hang out on the docks and eat lunch and kayak or paddle board here for a week. The first day at Roche we toured the harbor and got a first hand look at what life in a 2 million dollar boat looks like. Then we got back to reality and drove back south.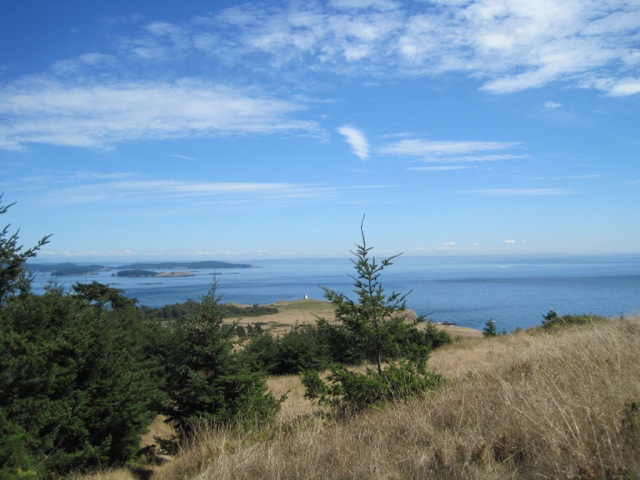 Our second day on the island we decided to go on a hike in the beautiful American Camp National Park. The hike started off wooded and ended on the gorgeous grassland filled vista overlooking the Olympic Peninsula across the bay. I highly recommend this 1.5-2 hour hike.
The next afternoon we decided to kayak and paddle board back in Roche Harbor. There are kayak tours available to whale watch but we chose to kayak in the harbor. After that 2 of us took paddle boards out in the harbor. On this picture perfect day I spent the second hour relaxing and taking in the scenery in the Roche Harbor Resort's garden.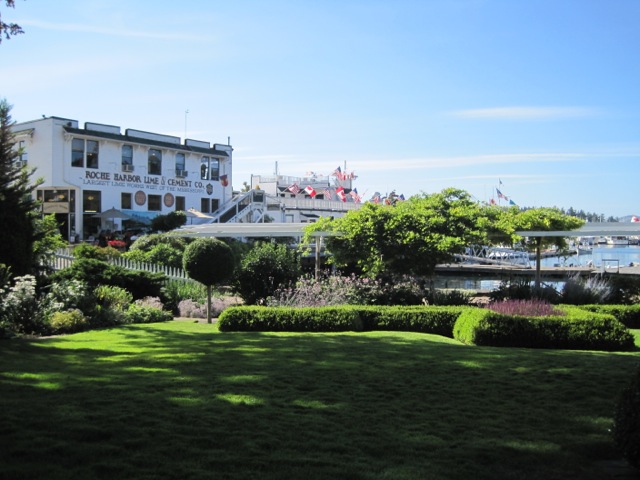 The view from a mini city park above Friday Harbor let us take in the views while eating our dinner that night from Vic's Drive In. I could watch the ferries go in and out of the harbor for hours.
Our last day we spent on the water whale watching. We were aboard the Odyssey with San Juan Excursions. It was a 3+ hour tour that offered a look at San Juan Island from the water and wonderful sighting of orca whale pods. We followed the pods for at least 2 hours. The orcas were amazing and the crew very knowledgable.
And the last night on the island we decided to return to our favorite Roche Harbor and dine at McMillan's at the resort. We got a lovely table by the window with a view and we each had a few courses. I had a delicious crab bisque and house salad with their halibut small plate. My husband had duck and daughter a sirloin small plate. The meal was topped off by a berry cobbler and coffee ice cream sundae. Perfect! We were surprised by a flag ceremony at sunset and taps. Lovely.