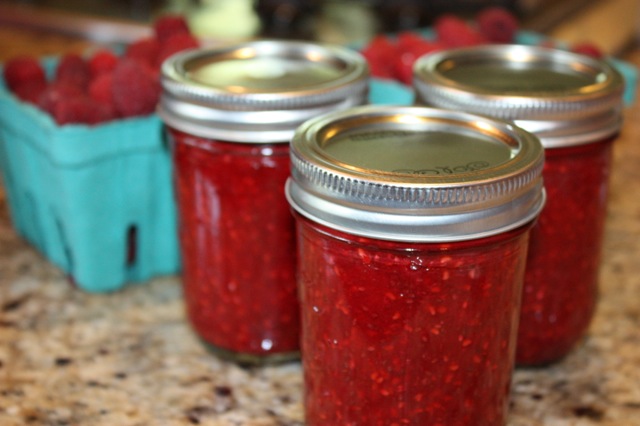 I have been jammin' in my kitchen the last few days. I always over purchase raspberries and get a flat so I have lots to work with and this year I experimented. Traditional jams are so yummy but they come with baggage and that's the excess amounts of sugar required but I must say if you follow the directions they are picture perfect and jelled to a T. I've seen recipes for chia seed jam and thought I'd try it to cut down on the sugar. I used Happy Healthy Mama's recipe for a base and this recipe is so quick and easy and makes six – 8 ounce containers of jam. The jam is made of primarily fresh raspberries with a small amount of chia and honey and water. The flavor of the pure raspberries stands out. I love the flavor without the added sugars and feel really great to use raw honey as a sweetener. And you have the added health benefits of the chia like added protein, fiber and Omega 3's, just to name a few. So enjoy your fresh raspberries on toast or a lovely biscuit.
Raspberry Chia Jam with a Bit o Honey
4 cups fresh raspberries, rinsed and drained
4 tablespoons chia seeds
4 tablespoons warm water
4 tablespoons raw honey
Blend all ingredients on LOW speed in your blender. If you have a powerful blender you may want to use the PULSE setting. Blend for a very short time (seconds) until the berries, honey and chia are a consistency you prefer for jam. Pour into three – 8 ounce jam jars and cover tightly. Let set for one hour in the refrigerator.
I have not tested this as a freezer jam but I am going to and will assume it will taste great after frozen and thawed. Happy jammin'!
Source: Adapted from Happy Healthy Mama's recipe.
Updated 7/9/15.