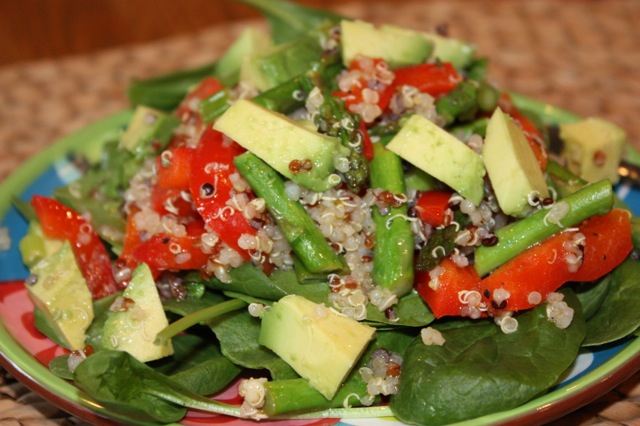 Spring and asparagus are here again and a light roasting of asparagus with red pepper really brings out the flavor of the vegetables. I topped the salad with avocado for a richer flavor and served it on a bed of spinach. The salad can also be served on it's own as a side dish.
Roasted Asparagus, Red Pepper and Quinoa Salad
1 cup prepared quinoa cooked according to package directions and cooled
one avocado
raw spinach
Prepare quinoa according to package directions. Cool.
2 green onions, chopped
1/2 bunch asparagus, cut into 1 inch pieces
1 red pepper, cut into 1 inch pieces
3 tablespoons olive oil
sea salt and pepper to taste
Prepare green onions, asparagus and red pepper and mix with olive oil, salt and pepper in a 9×13 roasting pan.  Roast in a 350 degree oven for 10 minutes.
Dressing – Mix together:
3 tablespoons olive oil
juice of one small lemon
sea salt and pepper to taste
garlic clove, minced
In a medium sized bowl mix the prepared quinoa and roasted vegetables. And dressing and mix to combine. Serve on a bed of raw spinach with avocado. Serves 4.
Source: Jackie Mack, Lingonberry Lane