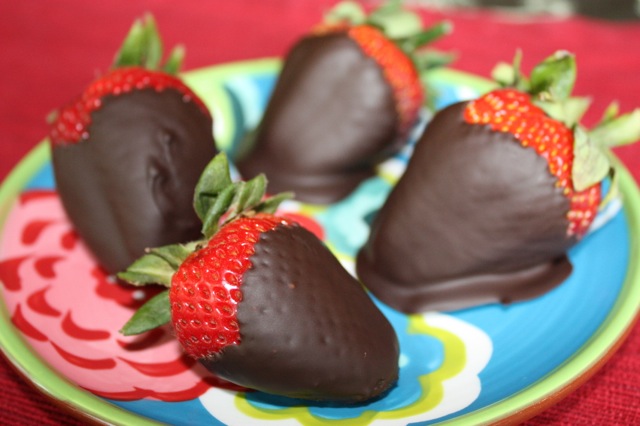 Looking for a quick easy dessert for your Valentines dinner? Chocolate dipped strawberries are simple and your kids can help you prepare them. They would be a great treat to have when you return from a night out with a glass of red wine, or they can be served alongside a bowl of ice cream. If you have leftover chocolate it can be used as 'chocolate shell' for ice cream. There are many uses for this recipe and one true fact – strawberries and chocolate just go together.
Dark Chocolate Dipped Strawberries
6-8 ounces dark chocolate (I used 72% dark chocolate from Trader Joe's – 17.6 oz bar…about 10 pieces)
1 teaspoon coconut oil
At least a dozen fresh strawberries
Rinse and dry your strawberries well ahead of dipping time. Melt the dark chocolate and coconut oil in a heavy small saucepan under very low heat. Stir frequently until all chocolate is melted and combined well with oil. Prepare a cookie sheet or baking dish lined with waxed paper. Dip the strawberries one by one in the melted chocolate and place in waxed paper dish. Refrigerate at least an hour until chocolate has hardened. Leave the strawberries in the refrigerator until served. Serve same day and enjoy.
Source: Jackie Mack, Lingonberry Lane