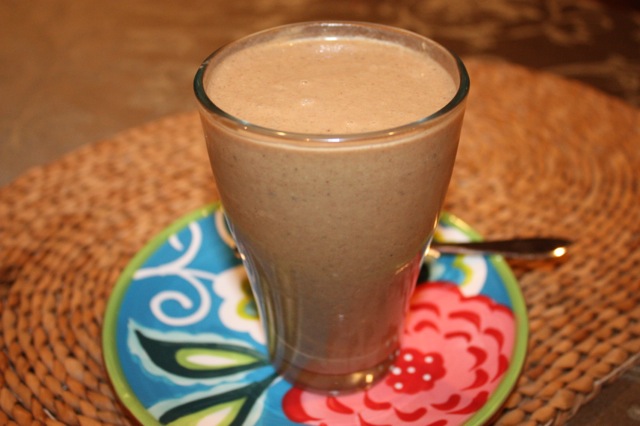 This smoothie has been a big part of my breakfast life the last few weeks. I have adapted this smoothie from Against All Grain. I was hesitant to try it because I just wasn't sure how an avocado would flavor a smoothie. But truth be told an avocado makes a smoothie creamy and doesn't have a strong flavor. The chocolate and almond stand out more and the cream is added from almond milk and texture from the avocado. A redeeming attribute of this smoothie is it has high fat content and keeps me satisfied for a good 3-4 hours after consuming – and I drink this whole recipe for breakfast when I have it. So, go ahead, try it! I think you'll like the result and make sure you get raw cacao and raw honey (from health food or natural foods store).
Chocolate Almond Smoothie
1 cup almond milk, unsweetened
good handful of ice cubes
1/2 ripe banana
1/2 ripe avocado
2 tablespoons raw cacao powder
2 tablespoons almond butter
1 teaspoon raw honey (optional)
1 teaspoon chia seeds (optional)
Blend all ingredients until smooth and creamy. Serves 1 immediately.
Source: Adapted from Against All Grain.