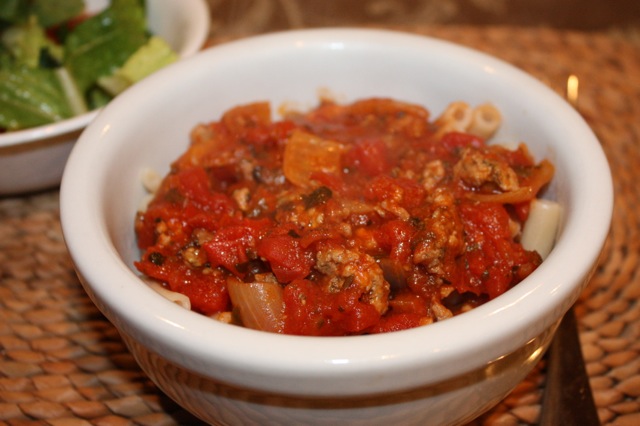 It's true, we don't always have the time to cook a marinara sauce all day long. My favorite marinaras are slow cooked but in a pinch this recipe can fill in for a hearty meal, you just need to allow about 45 minutes for the sauce to cook after the work is done. To serve it gluten free, cook up some rice pasta or even serve the marinara over vegetables. Tonight I reheated the sauce for dinner and for my main meal I had sauce topped with perfectly ripe avocado. It was delish.
Weeknight Marinara
1 onion, chopped
olive oil, a few tablespoons
1 pound ground italian sausage
1 – 25 ounce jar marinara sauce (without meat)
2 – 14.5 ounce cans (petite) diced tomatoes
2 teaspoons basil
1 teaspoon oregano
Sea salt and pepper to taste
Cook onion on medium heat in a few tablespoons of olive oil in large saucepan until softened. Add the sausage and cook until no longer pink on medium to low heat. While sausage is cooking, stir and break up the sausage into bite size pieces. Add marinara and diced tomatoes, basil, oregano. Simmer for about 45 minutes on medium to low heat until sauce thickens. Add salt and pepper to taste if needed (sausage could be salty and peppery enough). Serve over your choice of pasta, steamed vegetables or with avocado on top.
Source: Jackie Mack, Lingonberry Lane