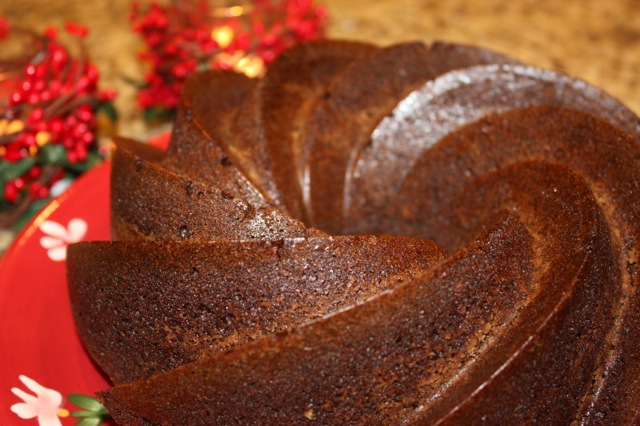 There's something magical about the flavor of gingerbread this time of year. The taste of dark molasses, ginger, nutmeg and cinnamon are so holiday laden. I've adapted a recipe from Sun River Coffee Co's Gingerbread with Whipped Cream and snipped the recipe from the Oregonian years ago. I've made this as a dessert and served with fresh whipped cream. However, keep your options open as it can also be a tasty breakfast or brunch treat. This gingerbread was made without the lemon adds or the lemon drizzle and was quite delicious. I've made the cake with and without the lemon and each is great. If you want to go with the lower sugar version skip the drizzle and add the lemon peel.
Enjoy your family, friends and the flavors of the Season!
Gingerbread Bundt Cake
Preheat oven to 350.
2 cups flour
1 teaspoon baking soda
1 teaspoon ground nutmeg
1 1/2 teaspoon ground ginger
1 teaspoon cinnamon
1/2 cup butter softened
1/2 cup brown sugar
2 eggs, beaten
2 teaspoons vanilla
1 teaspoon grated lemon peel (optional)
1/2 cup boiling water
1/2 cup dark molasses
1 cup applesauce
In a separate bowl combine the flour, baking soda, nutmeg, ginger and cinnamon. In a large mixing bowl, cream the butter and brown sugar. Add the eggs one at a time and continue mixing. Add vanilla, lemon peel, water, molasses and apple sauce. Carefully mix batter with boiling water on a low speed until well combined. Finish by stirring in the flour mixture. Pour batter into bundt pan greased with butter. Bake for 40 minutes or until a toothpick comes out clean.
Lemon Drizzle
After bundt cake is turned onto a plate (let cake cool about 15 minutes before turning), blend these two ingredients together in a bowl and drizzle on warm cake.
2 tablespoons lemon juice
1/2 cup powdered sugar
Whipped Cream
1 cup whipping cream
1 teaspoon vanilla
At highest speed with electric blender whip 1 cup whipping cream until peaks are formed. Add 1 teaspoon vanilla. Serve whipped cream with gingerbread bundt cake.
Serves 8-10.
Source: Adapted from Sunriver Coffee Co's Gingerbread with Whipped Cream.