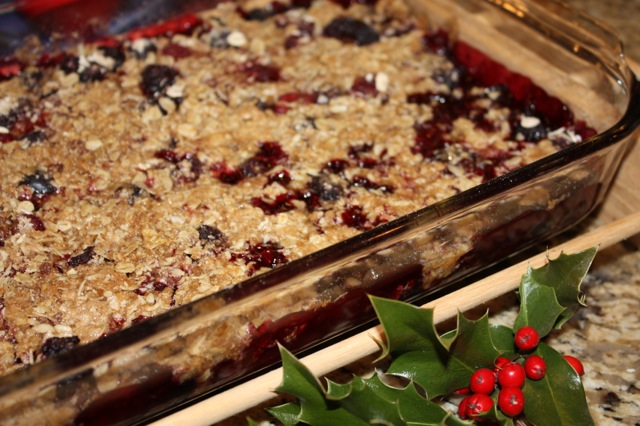 The holidays are fast approaching and I'm sharing a dessert that is a take off of my Mom's crisp recipe. As I wrote in my very first post Living Beyond Lingonberry Lane this is a go to recipe on many occasions for me. It is quick, easy and delicious and enjoyed by many. It is a beautiful holiday dessert that can be varied according to which bags of frozen (or fresh) berries you have in stock. This is my own variation of Carol's original.
Triple Berry Crisp
Berries…..mix in 9×13 pan:
2 – 16 ounce bags of frozen blueberries, raspberries and blackberries (I used Trader Joe's Triple Berry) or 6 cups berries
3/4 cup sugar
3 tablespoons flour
Topping….in large bowl with pastry blender mix:
3/4 cup brown sugar
1 cup rolled oats
1/2 cup flour
1  cube (1/2 cup) frozen or chilled butter, cut up
1 tablespoon cinnamon
Bake at 375 for 35-40 minutes or until topping is golden and berries are bubbly. Serve warm with real whipped cream or vanilla ice cream.
Options: Vary the berries with cranberry or rhubarb. Cranberry/blueberry combination or cranberry/raspberry are very tasty.