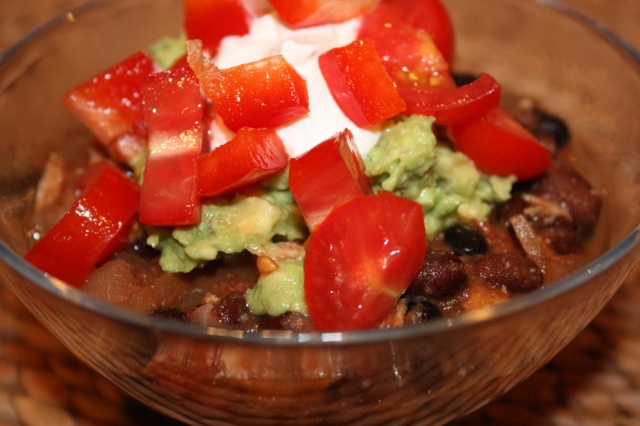 This is a little of the Southwest in a bowl. It started one night when I was short on time and I pulled out the crock pot and added chicken, a can of black beans, onion, tomatoes and Southwest spices. I had planned to eat the chicken in a tortilla but the girls made a bowl out of it and we topped with guacamole, fresh tomatoes, red pepper and sour cream. The dish was yummy and I will make it again.
Southwest Chicken Bowl
4-6 fresh or frozen chicken thighs
1 – 15oz can of black beans, drained
1 onion chopped
1 – 15oz can of fire roasted tomatoes
1 teaspoon cumin
1 teaspoon chili powder
Add all ingredients to a crock pot. Cook on high for 4 hours. Chop up chicken into bite sized pieces after cooked, stir well and serve. Serve in a bowl topped with guacamole, sour cream, fresh tomatoes and peppers. Or serve in a tortilla with toppings.
Source: Jackie Mack, Lingonberry Lane