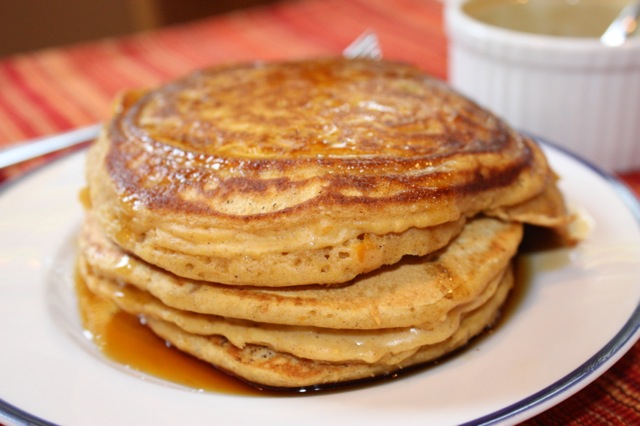 A day off school is a great day to try a new fall recipe. The recipe is adapted from All Recipes and was easy to throw together with items I stock in my cupboard. The canned pumpkin is the only seasonal item that I stock only in the fall. This is a great breakfast if you're craving a little fall pumpkin spice and it got a thumbs up from the family.
Pumpkin Spice Pancakes
1 1/2 cups milk
1 cup pumpkin (canned or fresh)
2 eggs, beaten
2 tablespoon melted butter
2 tablespoon apple cider vinegar
2 cups flour, all purpose or whole wheat
3 tablespoons maple syrup
2 teaspoons baking powder
1 teaspoon baking soda
1 teaspoon cinnamon
1/2 teaspoon ginger
1/2 teaspoon nutmeg
1/2 teaspoon sea salt
Combine all ingredients in a mixer and blend well. Heat griddle to low/medium. Butter griddle and test small pancake to make sure grill is hot enough. Grease griddle with butter and pour pancake batter onto griddle. Cook each pancake until golden brown on each side. Serve immediately with butter and heated maple syrup. Serves 4.
Source: Adapted from All Recipes.