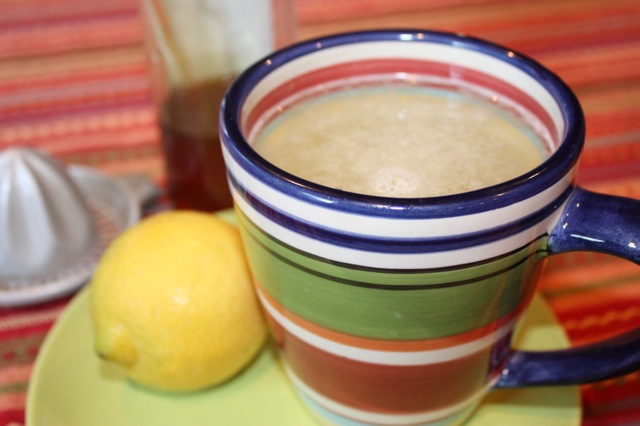 A long time ago, when we still lived in Minnesota, even before my daughter was born, it was the holiday season and I got sick. My mom was visiting for the holidays so it's a good memory and I remember having the chills and her tucking me into bed. Now, I was in my late 20's at least and there was still nothing like my mom tucking me into bed to make me feel better at that time. During those days I distinctly remember her making me a hot lemon and honey drink. It went down easy and was a kick of vitamin C and just tasted really good at the time. More recently when my family has been sick I have been taking that old remedy of my mother's and putting on the kettle, squeezing the lemon and adding raw honey. The drink tastes fantastic and the honey seems to coat a sore throat and sooth a cough. The drink's a little magic with some really healthy ingredients. A quarter cup lemon of lemon juice, according to WHFoods, provides almost 50% of our daily allowance of vitamin C. Now, that's a big hit of Vitamin C full of antioxidants to strengthen our immune system (see article for detail). And raw honey is another tip top health boost. WHFoods says raw honey is antibacterial, antiviral and anti-fungal. Now that's a line up of immune boosting sweetness. The most important note on the honey, is buy your honey RAW and local. Raw generally means it has not been processed or heated beyond a temperature that would destroy the nutritional benefits. You can usually find local raw honey at a health food store or your local health conscious supermarket. There are different levels of 'raw honey' but according the MD Bee, there is a general rule among bee keepers that honey is not raw if it has been processed or heated beyond what would be normally found in a bee hive. Carlislehoney.com says "Heat above 115 deg F destroys the beneficial enzymes, antioxidants, vitamins, and aroma".  I buy Wessels Raw Honey which is processed as they describe: "We gently warm the barrels to 105 degrees no warmer then it would be in the hive itself.  Honey is then pumped into a jarring drum, because of the low temperature of the honey you will see a lovely creamy creamed honey at the top of our honey containers….(my favorite part!!). Honey is filtered threw a natural cloth, our process or technique healthy  pollen,beeswax, and other natural hive goodness floating around!!"
So there you have it – a bit about lemon and honey. I've served lemon and honey to 4 family members since August. The first, my father in law had a sore throat and the next morning he said it was much better. The second was our exchange student. She loved it and I made it for her at least twice. The 3rd and 4th my husband and daughter in the last few weeks both have had a cough. At night they share a 16 oz lemon and honey drink and have said the next morning they slept better and less coughing. Now if we can only find a natural miracle remedy to make that cough go away for good. Let me know if you know something I don't.
Hot Lemon and Honey
Juice the lemon using a cup sized juicer (see mine in photo) or squeeze the lemon juice into the cup by hand. Using the juicer I add the extra pulp to the drink. Add a tablespoon of raw honey, mix and serve.
Source: Carol Mack