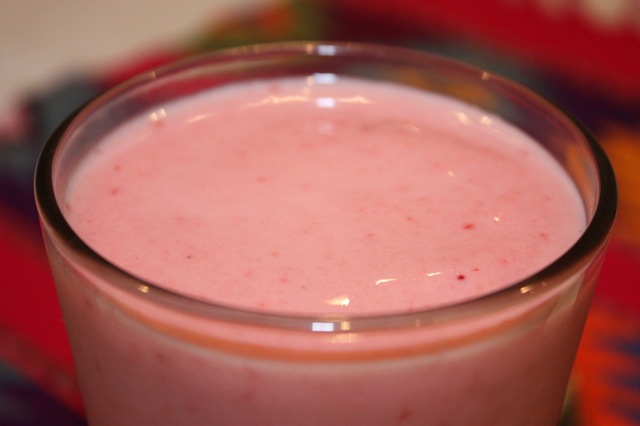 This week was high school tryouts for soccer and the first cross country week for our newly minted family member. We are hosting an exchange student from Denmark and she is very excited to be in the US for the high school experience. There is non stop chatter about football games and high school dances and just pure anticipation of the new year. Preview Days at the high school took place and the girls went into get their ID cards photos taken and get their class schedules for the new year. The week has been a great 'get to know each other week' but because our daughter was trying out for soccer with two sessions a day it has also been a bit stressful. Our Danish daughter is running cross country which is a no cut sport and that takes the pressure off – good decision by her on choosing sports. Cross country has been a good 2 1/2 hour practice and soccer 5 hours so between the two sports there have been sore muscles.
The week started out with requests for smoothies for breakfast and they continued each day. We've had mixed berry smoothies, piña colada smoothies and strawberry pineapple smoothies. The strawberry pineapple smoothie was requested twice so I figured it was a good one to add to the blog. I added coconut water for good electrolytes and yogurt for protein and good flavor. All days except this morning – because I just gapped out – I added about a teaspoon of chia seeds to the mixture in hopes the chia would make the girls run faster and stronger. The smoothies seemed to carry them through the runs and workouts with a piece of toast or bagel on the side slathered in good quality butter.
The good news – both our high school students are on the team they aspired to at the beginning of the week. Yahoo!
Strawberry Pineapple Smoothie
1 cup coconut water
1 cup whole fat yogurt – plain or vanilla (with least amount of sugar & ingredients you can find)
1 heaping cup frozen strawberries
1 cup frozen pineapple pieces
1 banana
Options: 1 teaspoon chia seeds, 1 teaspoon vanilla, or add 1 tablespoon coconut oil and blend before frozen fruit.
Combine all ingredients in large blender and blend until smooth. Enjoy immediately.
Source: Jackie Mack, Lingonberry Lane