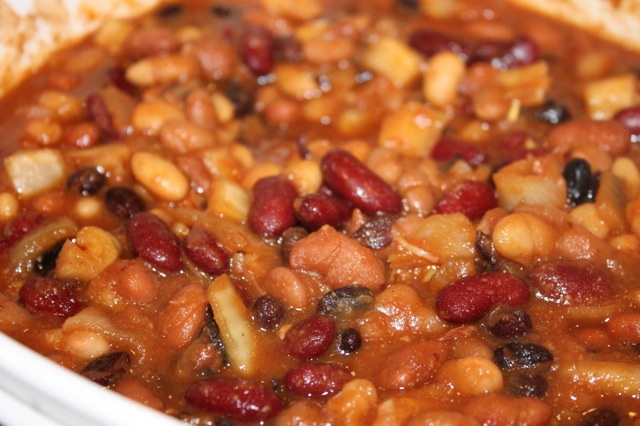 This recipe is a great add to a barbecue. The ingredients are quickly prepared and mixed in the crock pot. And the crock pot can be left while you go about your business readying the house for guests or molding those hamburgers for the grill. The original recipe was given to me a long time ago by my sister-in-law in Minnesota. Her version of the recipe had fried hamburger and bacon in it. Now, I'm thinking if you want to really make it good, add some cooked bacon bits, but I made it recently just as presented and it was a hit.
Crock Baked Beans
2 medium onions, chopped
1/4 cup maple syrup
2 tablespoons molasses
1 cup good quality ketchup (no high fructose corn syrup)
2 tablespoons mustard
2 tablespoons apple cider vinegar
15 ounce can pork and beans (or vegetarian style) – not drained
15 ounce can pinto beans
15 ounce can black beans
15 ounce can kidney beans
15 ounce can great northern beans
Rinse and drain the pinto, black, kidney and great northern beans. Chop onion and add all ingredients to the crock pot. Mix well. Cook in crock pot on high for 3-4 hours or low about 6 hours. Serves 8 or more.
Source: Adapted from my sister-in-law's recipe.