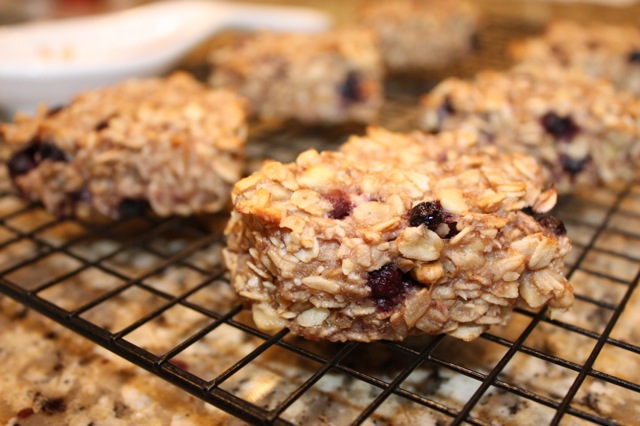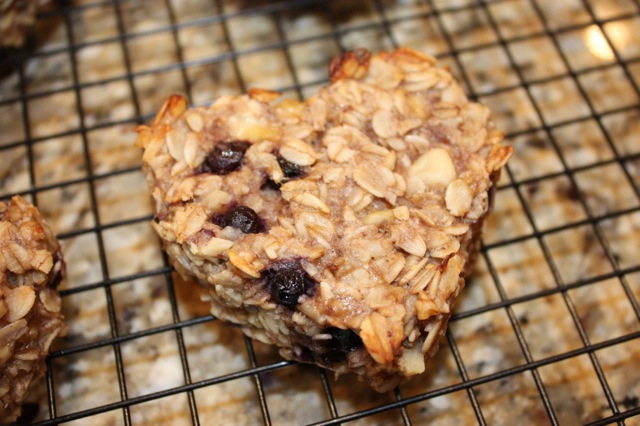 The inspiration for these bars was a Pinterest find from Kumquat and in true Jackie style I modified the recipe, omitted and changed a few ingredients. These bars are EASY to put together, are full of whole food ingredients and hearty. They are gluten free if you use gluten free rolled oats. Enjoy!
Blueberry Banana Walnut Breakfast Cookies
3 very ripe bananas, mashed
1 1/2 cups gluten-free rolled oats
1/2 teaspoon sea salt
1/2 cup chopped walnuts
1/2 cup frozen wild blueberries (I used wild from Trader Joe's and they are smaller than usual but standard sized are fine)
1/4 cup coconut oil in liquid form
Butter to coat the baking sheet and cookie cutter
Preheat oven to 350 degrees. In a large mixing bowl, mash bananas. Mix in the oats, salt, chopped walnuts, blueberries and coconut oil. Stir well until combined. Grease a 2 1/2 inch or similar cookie cutter with butter and coat the baking sheet with butter.
Press two spoonfuls of batter in the cookie cutter on baking sheet and repeat.
Bake at 350 degrees for 25 minutes until golden. Remove from sheet to cooling rack or eat warm. Makes 8-10 bars.
Source: Adapted from Kumquat.