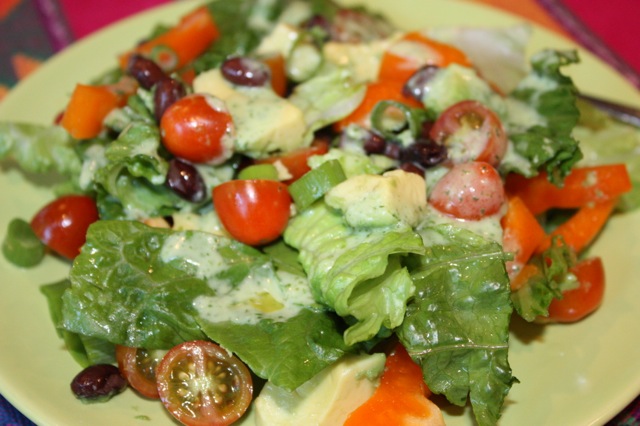 With Cinco De Mayo right around the corner I adapted a recipe from The Garden Grazer with a Southwest flare. It is fresh and with the cilantro and lime it tastes like a great add to a Cinco De Mayo celebration. And as a bonus, it's easy to prepare.
Southwest Salad
Large head of romaine
15 ounce can black beans, rinsed and drained
1 orange or yellow pepper
1 pint cherry or grape tomatoes
1 avocado
4-5 green onions
Creamy Cilantro Lime Dressing
1 cup cilantro leaves, washed and stemmed
1/2 cup plain whole fat yogurt
3 tablespoons fresh lime juice
1 small garlic clove, chopped
1/4 cup olive oil
1 1/2 teaspoons apple cider vinegar
sea salt and pepper to taste
Rinse and chop the lettuce, bell pepper, green onions and tomato. Mix all in salad bowl. Add rinsed and drained beans.
In a blender combine all ingredients for dressing and blend well. Add salt and pepper to taste.
Add chopped avocado on top or mix in to salad and serve with dressing mixed in or on the side. Serves 6-8.
Option: Add roasted chicken for a main meal.
Source: Adapted from The Garden Grazer