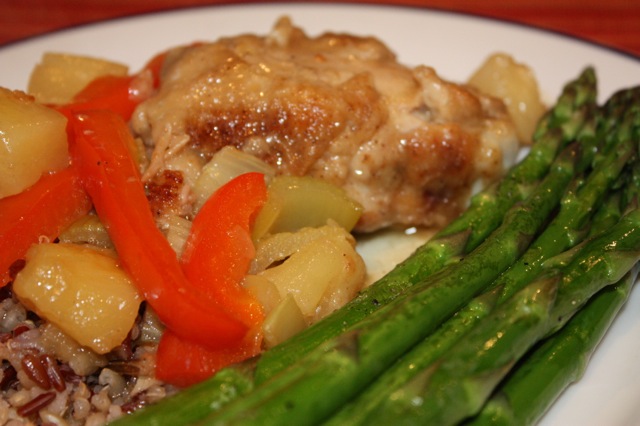 When I was in Boston in February I had fun chatting with my aunt and cousins about the blog and was happy that they checked it out here and there and have shared a few recipes with others. We were discussing favorite recipes and old recipes my mom (Carol) had shared with my aunt over the years. One of their favorites that came from Carol is this recipe for Hawaiian Chicken. I don't remember Carol making this when I was growing up but the recipe stuck in my aunt and uncles home. So I promised to try it out for the blog – and here it is! I only changed a few things – I subbed the maple syrup for the same amount of brown sugar and used arrowroot powder for the cornstarch. My family enjoyed the sweet and tangy flavors and we will think of Carol and my Boston family when we serve it in Portland. I just love how food links us all and that's one of the reasons I blog – I love the connections.
Hawaiian Chicken
1/4 cup flour
1/2 teaspoon paprika
salt and pepper
olive oil for bottom of pan
8 chicken thighs, bone and skin on
1 pepper, sliced
1 – 20 ounce can of pineapple chunks
4 stalks of celery, chopped
1/2 cup of pineapple syrup/juice from the can
2 tablespoons maple syrup
2 tablespoons soy sauce
1 tablespoons cornstarch or arrow root powder
Mix flour, paprika and salt and pepper (to taste) in a large airtight covered container. Shake the chicken thighs in the flour mixture with cover on to coat and brown in hot olive oil in large frying pan or stock pot. Turn chicken as needed. After browning add 1/2 cup water and simmer until the chicken is almost cooked through.
Cut up pepper and celery. Reserve 1/2 cup syrup or juice from pineapple can.
Remove chicken (or move chicken aside) so that you can add the vegetables and pineapple under the chicken to cook. Cook for 10 minutes. Mix 1/2 cup pineapple syrup/juice, maple syrup, soy sauce and cornstarch or arrow root powder in a tightly covered container to combine. Add mixture to pan and cook for 5 more minutes until chicken is completely cooked through and sauce has thickened (can add more water if sauce is too thick).
Serve with your choice of rice and a vegetables on the side. Serves 4-6.
Source: My Auntie via my Mother