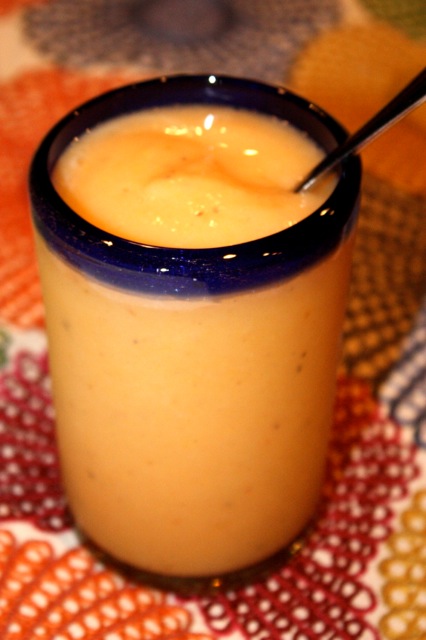 I was picking up a big bag of frozen strawberries for my daughter's favorite strawberry smoothie and a big bag of frozen peach slices were calling my name. The big bag of peaches has provided us peach smoothies and this morning a peach refresher. I call it a refresher because the coconut water has almost the same balance of electrolytes to human blood according to Natural News and is high in potassium as well as antioxidants. Coconut water is said to be a great replacement for sports drinks for replenishing your bodies fluids. And the peaches and bananas are a healthy addition of vitamins A & C (peaches) and B6 and C (bananas). As a bonus the refresher is yummy and has no added sugars. It reminds me of peach nectar and my personal favorite attribute is the gorgeous color.
Peach Refresher
2 cups plain coconut water
2 cups frozen peaches, loosely packed
1 banana
Optional: chia seeds – 1 tablespoon gel or 1/4 tablespoon chia seeds.
Blend all in ingredients until smooth. Makes 2 large servings.
Source: Jackie Mack, Lingonberry Lane