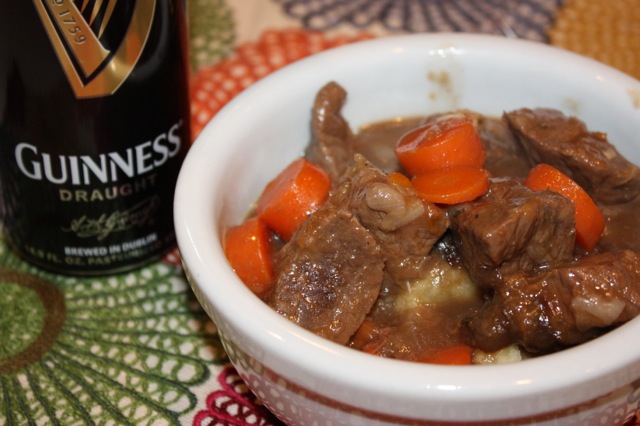 I'm getting into the spirit of the Irish weekend listening to Celtic Thunder's Mountain's of Mourne which apparently was a favorite song of my father's and he would belt it out. I do remember the Irish tunes that cranked on our turntable in the 70's during this season.  When Irish Eyes are Smiling, Danny Boy and Molly Malone were loved by all. My Dad did have those beautiful blue smiling Irish eyes and they twinkled during the St.Patrick's season. The corned beef and cabbage cooked on the stove, the music flowed and we sang.
My dear cousin Mary has shared with me a few of her tip-top Irish recipes. Mary has been living in Ireland with her daughter since the late 90's. I would say my Irish cousin who grew up tilling the ground on the homestead in Alaska is truly Irish after so many years living in the homeland. And cook can she – just like her Mom and her sisters. It's a special talent they have.
I gathered the ingredients yesterday and cooked up the beef and Guinness and lots of carrots and onions with the add of the flour and a good hour and half of simmering the stew was thick and sweetened with prunes and tangy with beer. The family gave two thumbs up for the Irish stew served over fresh buttery mashed potatoes.
Mary's Beef and Guinness Stew over Red Mashed Potatoes
2 pounds of your favorite beef stew meat
few tablespoons olive oil (optional for browning)
2 onions, chopped
2 garlic cloves, minced
1/4 cup flour
1 cup beef stock
1 – 14.9 ounce can Guinness
4-6 large carrots, chunky
2 bay leaves
sprig or two of thyme – or 1/2 teaspoon dried thyme
salt and pepper to taste
1/2 cup prunes, chopped
Brown stew meat in olive oil on medium heat in a large stock pot. Add chopped onions and garlic. When beef is nicely browned (about 10 minutes) sprinkle the flour over meat  and coat meat and onions thoroughly. Then add beef stock, Guinness, carrots, bay leaves and thyme and salt and pepper to taste. Simmer for one hour on medium to low heat, then add chopped prunes. Simmer an additional 1/2 hour. Stew will be thickened and ready to serve. Remove bay leaves and sprig of thyme. Serve over mashed potatoes. Serves 6.
Steamed Red Mashed Potatoes
In saucepan big enough to fit potatoes, place steamer basket and water filled to just below basket level. Heat water on medium/high. Wash large red potatoes for your family. Cut in 1/2 and place potatoes in steamer basket. Simmer/steam potatoes for 20+ minutes depending on size of potato. Check for softness with fork after 20 minutes. If potatoes fall apart with a fork they are done. Cook longer if necessary. When potatoes are cooked, drain water from pan with potatoes in it using lid so potatoes won't fall out! When cool enough remove steamer basket from pan leaving potatoes in it. Add butter and a little milk or cream. Using potato masher mash well. Add more butter and milk or cream for taste and texture. The end product will be a creamy consistency, however mine still had a bit of chunk in them with the cream. Salt and pepper to taste.