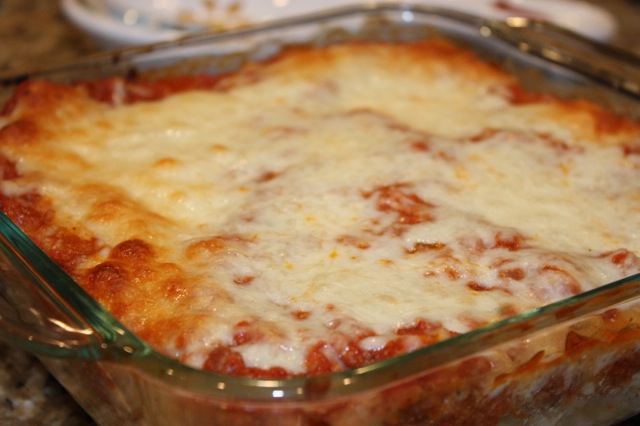 I know it's the Irish time of year but we had Italian last night. My sister in law gave me a version of this recipe a long time ago and it's been a family favorite ever since. I imagine the exchange was in the 90s when we would have dinner at their home in Minnesota and we lived only a short distance away. The recipe is a bit different than the original but that's what makes cooking fun – making it your own and you should do that with my version.
Rigatoni Bake
1 medium onion, chopped
3 cloves garlic, minced
olive oil for pan
1 pound mild Italian sausage
1 – 28 ounce jar of your favorite marinara sauce
1  – 14.5 ounce can stewed tomatoes
2/3 of a 16 ounce package rigatoni (can use rice noodles)
1 1/2 cup cottage cheese (or ricotta)
1/4 cup parmesan cheese
1/4 teaspoon parsley
1/4 teaspoon basil
salt and pepper to taste
2 cups mozzarella cheese, shredded
In large pan sauté chopped onion and minced garlic in olive oil. Add Italian sausage and brown until there is not more pink in meat. Drain if necessary. Add tomato ingredients and cook 20 minutes or more if you have time. Puree with a hand blender (I did this) or you can leave the sauce chunky.
Meanwhile heat water to cook pasta according to the package, however, I recommend undercooking them a bit because they'll cook more in the oven. Drain pasta when done.
In a medium mixing bowl stir together cottage or ricotta cheese and parmesan. Add the parsley and basil and salt and pepper to taste. In a 9×13 pan or two 8×8 baking pans greased with olive oil add drained pasta. On top of pasta add the layer of cottage/ricotta. Spread all marinara sauce on top of the cheese layer and then add the mozzarella to finish.
Bake at 350 for 35-40 minutes until pasta dish is bubbly and cheese is slightly browned on top. Serves 8.
Source: my sister in law