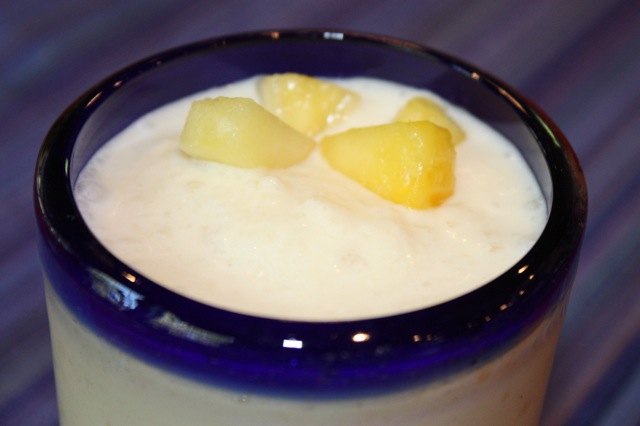 We enjoyed a 60 and sunny day yesterday in Portland and my daughter came home wanting a piña colada smoothie. I didn't have the ingredients from my previous posting of a piña colada smoothie. So I created a new version of the smoothie using plain coconut water, a natural hydrator and great replacement for a sports drink.  According to NaturalNews.com coconut water's electrolytes are almost at the same balance as human blood and is especially high in potassium.  In addition to the coconut water I used coconut cream from a can. I suspect you could also use coconut milk as a substitute but the cream added density to the drink.  The pineapple is such a sunny flavor and a boost of vitamin C. Enjoy this refreshing drink on a warm day or after a tough work out or quite frankly when you craving a taste of the tropics!
Piña Colada Refresher
1 cup plain coconut water
1/2 cup coconut cream (from a can, or could sub whole fat coconut milk)
1/2 banana
1 1/2 cups frozen pineapple
In a blender add all ingredients and blend until smooth and serve immediately. Makes 1 large serving.
Optional: 1 tablespoon coconut oil (add before the pineapple so it will blend and not be chunky) or 1 tablespoon chia gel (see LL link for chia gel instruction)
Source: Jackie Mack, Lingonberry Lane