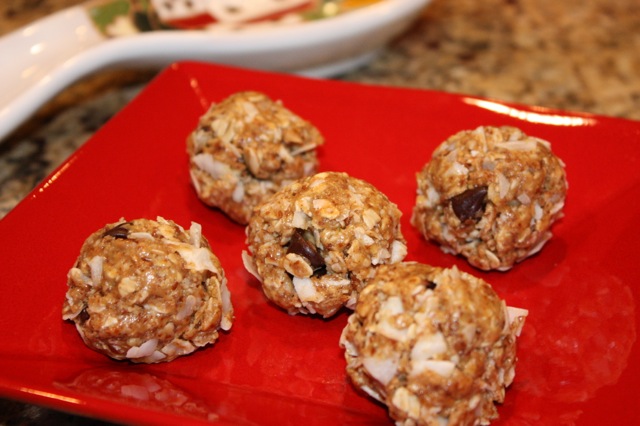 I saw these on Pinterest posted by Gimme Some Oven and I'm always intrigued by a no-bake bite option, especially one with seemingly decent ingredients. I'm not one to bake cookies often, I'll be honest, I'm more of a cook than a baker. So these sweet treats looked like just the ticket for a quick on the go snack. They proved to be as easy as they looked – it just takes a 1/2 hour of  chill time – and we can all use a extra 1/2 hour of chill time…roll them into balls and serve. They're a nice snack item for a school lunch box and a kid friendly recipe for the kitchen.
Chocolate Peanut Butter Coconut Bites
1/2 cup peanut butter (or another nut butter)
1/3 cup honey
1 teaspoon vanilla
1 cup oatmeal
1 cup coconut flakes, unsweetened
1/2 cup ground flaxseed (or wheat germ)
1/4 cup chocolate chips (mini would work well if you have them)
Blend the peanut butter, honey and vanilla in a medium sized mixing bowl. Add the rest of the ingredients and stir well until combined evenly. Chill dough in refrigerator for at least 30 minutes. Using cookie scoop or your hands to form the dough into bite sized balls and store in refrigerator in sealed container. Makes 15 bites.
Source: Adapted from Gimme Some Oven